Graham Norton says BBC pay-offs are an 'own goal'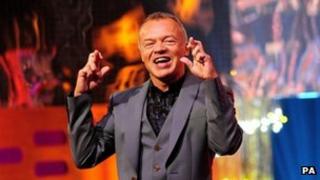 Chat show host Graham Norton has criticised the BBC for severance pay-offs awarded to senior staff, calling them an "own goal" for the corporation.
Norton, one of the BBC's highest paid stars, said it was "extraordinary" that in a time of cuts, some BBC staff were being "handed sacks of cash".
"It defies belief," the TV and radio presenter told the Radio Times.
The BBC paid £25m to 150 outgoing executives over three years - £2m more than their contracts stipulated.
In July, the National Audit Office criticised the payments, saying the BBC risked "public trust".
The corporation's new director general, Tony Hall, introduced a £150,000 cap on severance pay for senior managers in September.
'Extraordinary'
Norton, 50, presents a show on BBC Radio 2 as well as The Graham Norton Show on Friday nights on BBC One.
He is paid through production company So Television, which he sold to ITV last year. According to filings at Companies House, he received £2.61m in 2012 for "presenter fees, production fees and royalties".
His criticisms echo those of Sir David Attenborough, who said last month that the salaries paid to senior BBC staff were a "huge embarrassment".
"The BBC is in my view one of the most important strands in the cultural life of this country... and it is going through a bad patch," Sir David said.
"I just hope that it will emerge from the bad patch with the standards that made it great still there."
'Time of cuts'
Norton also said the corporation was "scoring way too many own goals", but said he was optimistic for the future after the appointment of Lord Hall and a new management team at BBC One.
"You hope we can start again and that those sort of mistakes won't continue to be made," he said.
"Because it did seem extraordinary in a time of cuts where you were asking everyone who works for the BBC who's loyal and doing a good job to tighten their belts and take a reduction in pay, while those people who'd dragged the BBC into disrepute were being handed sacks of cash. It defies belief."
Norton, who also presents the Eurovision for the BBC, said he would only consider switching to ITV "if they had a lorry load of cash outside my door.
"I can't imagine what would make me go. Who's to say? Because I don't think I would work on ITV."
The Graham Norton Show - now in its 14th series - moved to BBC One in 2009, and took over Jonathan Ross's Friday night slot a year later.
The most recent series had an average audience of 3.77m viewers.
In response to Norton's interview, the BBC said: "When director general Tony Hall arrived in post in April, he took immediate action on severance payments by introducing a cap, which was implemented in September 2013.
"The senior manager pay bill has reduced by more than 30% since August 2009 and the BBC is saving £37m every year as a result of reducing the number of senior managers."