Jackass film Bad Grandpa trumps at US box office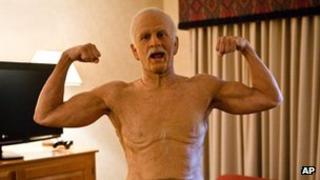 Johnny Knoxville's raunchy comedy Bad Grandpa has ended Gravity's three-week run at the top of the US box office.
Jackass Presents: Bad Grandpa, about an 86-year-old and his eight-year-old grandson, opened with $32m (£19.7m).
Gravity, which starrs Sandra Bullock and George Clooney, as astronauts adrift in space took $20.3m (£12.5m)
It was followed by Tom Hanks' hostage drama Captain Phillips which earned $11.8m (£7.2m). Ridley Scott's star-studded The Counsellor came fourth.
Starring Michael Fassbender, Penelope Cruz, Cameron Diaz, Javier Bardem and Brad Pitt, The Counsellor is about a greedy lawyer who turns to drug trafficking.
Written by No Country for Old Men author Cormac McCarthy, it brought in $8m (£5m) over the weekend - one of the worst openings on record for a Ridley Scott film.
The weekend's fifth place finisher, Cloudy With A Chance of Meatballs 2, earned $6.1m (£3.8m) - bringing its total takings to $100.6m (£62.2m).
Gravity, meanwhile, has now earned $199.8m (£123.6m) in North America.
Elsewhere in the chart, the latest film adaptation of the Stephen King's supernatural horror tale, Carrie fell to sixth place.
Starring Chloe Grace Moretz, the film, about an outcast high school girl out for revenge, earned $5.9m (£3.6m).
It was followed by Escape Plan, with Sylvester Stallone and Arnold Schwarzenegger as inmates trying to break out of the world's most secure prison. It made $4.3m (£2.6m).
British director Steve McQueen's 12 years a Slave, which premiered at the Toronto Film Festival last month, took $2.2m (£1.4m); while romantic comedy Enough Said, starring the late Sopranos star James Gandolfini, earned $1.6m (£990,000) to fill the ninth spot.
Rounding off the top 10 was Hugh Jackman and Jake Gyllenhaal's thriller Prisoners, taking $1.1m (£680,000).
Despite a restrictive certification and playing on just four screens, the controversial French film and Cannes Palme d'Or winner Blue is the Warmest Colour, earned a $101,000 (£62,000).
The figure amounted to an impressive per screen average of $25,279 (£15,642).