Radio 2 listeners hear double in Bob Harris show glitch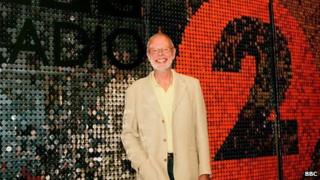 BBC Radio 2 has apologised to Bob Harris fans, after two different segments of his show were played out together as the clocks went back.
Listeners voiced their confusion on Twitter over the weekend, after the second hour of Harris's three-hour pre-recorded show was disrupted.
Harris, known as "Whispering Bob", later told followers on the site he was "so sorry that a technical fault had such a big impact".
Radio 2 is looking into what caused it.
The problem occurred as the UK switched from British summer time to Greenwich mean time in the early hours of Sunday morning.
Harris, 67, tweeted that he was "particularly disappointed" listeners had been unable to hear a special session recorded with new singer-songwriter Nick Capaldi, whose track In My Shoes has been played on Radio 2.
The former host of 1970s music show The Old Grey Whistle Test assured fans they would be re-broadcasting the session "as soon as we can".
A spokesperson for the station said: "On Sunday morning between 1am and 2am there was a technical glitch which affected Bob Harris's show. We are currently looking into the cause and apologise to listeners tuning in at that time."
Abba surprise
An emergency tape did kick in after around 20 minutes, featuring tracks including Abba's Dancing Queen and lasting for approximately half an hour.
One of the first listeners to notice the problem asked Harris on Twitter: "Did you know something's gone wrong? You're playing two records at once and now talking over a record underneath you?"
She later added: "Twenty-two minutes into Bob Harris show on Radio 2 and an announcement comes on that not all is right. Meanwhile some Abba. Hmmm."
Another listener joked: "I think they are running the playlist from the security guard's phone!"
Many listeners also expressed their surprise that the programme was not broadcast live.
The three-hour show, which runs from midnight until 03:00 GMT on a Sunday morning, is usually pre-recorded and features a selection of Harris's favourite rock, country and folk music, including live sessions.