Lorde claims UK number one spot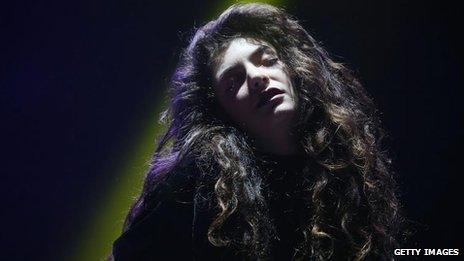 New Zealand singer Lorde, 16, has topped the UK singles chart with her debut single, Royals.
Born Ella Yelich-O'Connor, she is the youngest solo artist to score a UK number one since 15-year-old Billie Piper's Because We Want To in 1998.
Lorde, who held off competition from last year's X Factor winner James Arthur, has already made number one in her native New Zealand and the US.
Royals hits out at the lavish lifestyle enjoyed by some big name music stars.
Lorde was signed to Universal on a development deal at just 13 years old, after a friend's father sent them home recordings of her singing Duffy and Pixie Lott tracks.
She started writing her own songs soon after, principally working with fellow New Zealander Joel Little, and her debut album Pure Heroine is released in the UK on 28 October.
It will be the main competition for Katy Perry's new album, Prism, which debuted at number one this week.
Perry's follow up to 2010's Teenage Dream - which spawned seven UK top 10 singles - outsold James Blunt's fourth studio album Moon Landing by almost 12,000 copies.
Last week's chart-topping album, Tribute by John Newman, slipped two places, while the Arctic Monkeys climbed back up two places to fourth with AM.
Italian opera star Andrea Bocelli claimed his eighth top ten album with Love In Portofino, new at number five.
In the singles chart, James Arthur's You're Nobody 'Til Somebody Loves You made number two.
It marks his first release since his X Factor winner's single Impossible, which spent two weeks at Number One over Christmas and New Year.
Fellow 2012 X Factor contestants Union J made it to number eight in the chart with their second single Beautiful Life, after the boyband's debut single Carry You peaked at six in June.
Last week's number one single, Counting Stars by OneRepublic, fell to third place while Katy Perry's Roar was in fourth, after two weeks at number one last month.
Dutch brothers Sjoerd and Wouter Janssen, better known as Showtek rounded out the top five with Booyah, featuring DJs We Are Loud! and vocalist Sonny Wilson.
Eminem managed a third top 40 single from his forthcoming new album in as many weeks, as Survival landed at number 22.
The Marshall Mathers LP 2, which also features this month's top 10 hits Berzerk and Rap God, will be released on 5 November.