Smokey and the Bandit director Hal Needham dies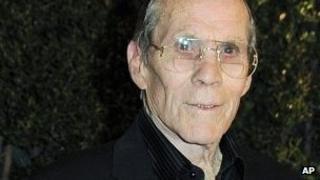 Veteran stuntman Hal Needham, who directed comedy films Smokey and the Bandit and The Cannonball Run, has died in Los Angeles aged 82.
He began his career as a prolific stuntman in the 1950s and was credited with inventing new stunt methods such as introducing air bags to break falls.
He turned to directing in 1977, with Smokey and the Bandit as his directorial debut.
A family spokesman declined to give the cause of death.
A former paratrooper, Needham appeared in hundreds of TV shows and movies as a stuntman jumping from planes, dragged by horses and wrecking cars.
He first appeared primarily in westerns including Gunsmoke and The Man Who Shot Liberty Valance, doubling for John Wayne.
In the 1970s he turned his attention to car stunts and frequently doubled for Burt Reynolds, who would later star in his Bandit and Cannonball Run films.
The pair became such close friends they owned a Nascar team together and Needham lived in Reynolds' guest house for 12 years.
Over his career he punctured a lung, had a shoulder replaced and broke 56 bones, including his back twice.
His idea to use air bags to cushion falls was prompted by watching pole-vaulters as "a way to save myself some trips to the hospital".
Needham won a scientific and engineering Oscar in 1987 for the design and development of the Shotmaker Elite camera car and crane.
He was also given an honorary award at this year's Academy Awards where he described himself as the "luckiest man alive".
Arnold Schwarzenegger, whom Needham directed in 1979 film The Villain, paid tribute on Twitter saying: "Hal Needham was a great stunt coordinator, director and an icon. I'm still grateful he took a chance with me in The Villain. I'll miss him."
Shaun of the Dead director Edgar Wright added: "Everyone stop what they are doing and perform a spectacular jump in a rocket powered Trans-Am to honour the late, great Hal Needham."