Tim Roth to play Fifa president Sepp Blatter on film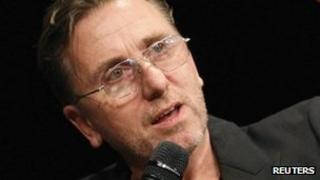 British actor Tim Roth is to star as Fifa president Sepp Blatter in a film about football's governing body.
Provisionally titled F2014, Gerard Depardieu will also appear in the movie as Jules Rimet - one of Fifa's founders and its longest-serving president.
In a video published on Fifa's website, Blatter said Roth's casting was "well done" and they had "common qualities".
The film is due for release next year, to coincide with Fifa's 110th anniversary and the World Cup.
Production will take place in France, Brazil and Azerbaijan.
The video showed Blatter meeting with Roth for the first time in Zurich, which Blatter said was "a very interesting get-together".
"I had read a lot of the CV and all the [films] that Tim Roth has made [and] I was very eager to meet him," the 77-year-old said.
The movie is being made by French production companies Leuviah and Thelma Films.
Blatter has run Fifa since 1998 amid a series of controversies including allegations of corruption.
In 2004 the Swiss was criticised for suggesting female footballers should wear tighter shorts and low cut shirts to attract more male fans, while in 2011 he insisted there was no racism in football and any incidents could be settled with a handshake.
He was also at the centre of allegations of bribery resulting in Qatar's successful 2022 World Cup bid and was criticised for saying gay football fans should not have sex while in the nation, where homosexuality is illegal.
He has since apologised for his remarks.
Roth, 52, will soon be seen on the big screen as Prince Rainier of Monaco, opposite Nicole Kidman in Grace of Monaco.