Thor sequel 'a juggernaut' say British stars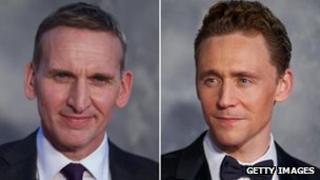 The latest movie in the Marvel comic book film franchise was a "juggernaut" to work on with a "grand scale" comparable to William Shakespeare, according to its British cast members Christopher Eccleston and Tom Hiddleston.
"I've done big Hollywood films before, but nothing this big," said Eccleston, who plays 'dark elf' Malekith in Thor: The Dark World.
"It was a big learning curve for me," continued the 49-year-old Salfordian. "It's a juggernaut, absolutely.
"But I went in on faith about what I saw on the page and what I felt I could achieve, and I learned as I went."
For Hiddleston, soon to be seen playing Coriolanus on the London stage, connections can be made between the "big stories" told in the Marvel universe and those found in classical drama and Shakespeare.
"It's gods and monsters, it's kings and queens, it's princes and lovers," said the London-born 32-year-old, who returns to reprise the nefarious Loki character he played in the first Thor and 2012's Avengers Assemble.
"I don't want to draw too many parallels because they're not the same. But it's always about the basic human fallibility in very powerful people.
"Even on this massive, grand scale, characters suffer from very human failings - jealousy and pride, loneliness and isolation. It's our humanity, writ large."
Thor: The Dark World sees its titular superhero - a hammer-wielding Norse god from a distant alien civilisation, played by Australian actor Chris Hemsworth - battle to stop Malekith destroying the universe.
To do so he must form an uneasy alliance with his adopted brother and former adversary Loki - a development Hiddleston said he welcomed wholeheartedly.
"One of the most exciting aspects of coming to this, was wondering what would happen if Thor and Loki were side by side," he told the BBC News website.
"You've seen them up against each other for two films now. What if there was a reason that they had to join forces? Loki is Thor's wingman in this and that was fun to play."
Eccleston's own fun was somewhat curtailed by the time-consuming make-up sessions that he underwent to become his character, a process he admitted was "a challenge".
"It's six hours in the make-up chair, so you just sit there and let it happen," he remembered. "I was absolutely passive in the process.
"You also know there's going to be a lot of post-production and CGI [computer-generated imagery]. So what I found myself doing, was working out what the character was thinking.
"You end up on set and you know they're going in there," he continued, miming the action a camera zooming in on his distinctive physiognomy.
"That's your chance. That's your opportunity to make your mark."
Eccleston and Hiddleston both attest passionately to the importance of a theatrical training in bringing larger-than-life characters like Malekith and Loki to life on screen.
'Game of chess'
Rada graduate Hiddleston found his training particularly useful in his early scenes in Thor: The Dark World, which see his character incarcerated within the bowels of the mythological realm of Asgard.
"It's always great as an actor to have an obstacle; they teach you that at drama school," he explained. "And it's an interesting obstacle for your character, because it makes you unfree.
"You're trying to play your character's truth, but there are limits to what that character can actually do. So it becomes a psychological game of chess, which is really fun."
It would be remiss of us not to talk to Mr Eccleston about a major cultural institution of which he has been a part, one that will shortly be marking its 50th birthday.
We are talking, of course, about the National Theatre, where the actor was working - in a 2011 production of Sophocles' Antigone - at the time he was cast as Malekith.
"The National has been good to me and we have to protect it," he told the BBC News website. "It's one of our very greatest assets.
"In the last 10 years in particular, it's extended its reach with ticket pricing and also policy in terms of the plays they're doing."
Eccleston, who used to work at the South Bank venue as an usher, will return there later this week to take part in the anniversary celebrations
"They're doing a selection of the National's greatest hits over the last 50 years," explained the actor, who will appear in a staged extract from Sir David Hare's 1993 play The Absence of War.
The 50 years on stage event, which will also feature appearances from Benedict Cumberbatch, Ralph Fiennes, Sir Michael Gambon and Dame Judi Dench, will be broadcast live from the National Theatre on BBC Two on 2 November.
The following month, meanwhile, will see Hiddleston take to the stage of the Donmar Warehouse in Shakespeare's Roman tragedy Coriolanus.
"Coriolanus is an impeccable soldier who becomes a war hero", explained Hiddleston. "That leads him to be corralled into politics, an arena he has no place in.
"A soldier's skill set is very different from a politician's skill set, and never the twain shall meet. That for me has quite an interesting contemporary resonance."
Thor: The Dark World is out in the UK and Ireland on 30 October.