Hitchhiker's stage show cancelled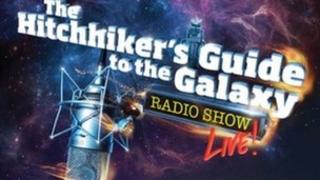 Hitchhiker's Guide to the Galaxy Live!, a touring stage show based on Douglas Adams cult book, has been cancelled due to poor ticket sales.
The Radio Theatre Company, which produced the show, said it regretted the cancellation, which was announced ahead of a performance in Crawley.
"In the last 24 hours we have had no option but make the extremely hard and painful decision to stop the tour."
All remaining dates in October and November tour have been pulled.
Ticket holders have been advised to contact the venue for refunds.
"Although a well-loved show, Hitchhiker's Live has been subject to the same extreme economic pressures as many productions touring the UK this autumn," producers said, in a statement posted on its website. "Ticket sales across the board have been lower than average and we have not escaped this trend.
"A difficult financial environment for such a large and technical show means that covering operating costs has become impossible."
"We sincerely apologise for any inconvenience this may cause and share the extreme disappointment and frustration felt by many who were looking forward to seeing the show. We sincerely hope that it can be brought back in the future."
'Devastated'
In a joint statement with director Dirk Maggs, Simon Jones, who played Arthur Dent in the show, wrote on his Facebook page: "With infinite regret, despite happy audiences and 5 star reviews, we have been forced to curtail this tour ahead of schedule due to economic adversity. "
"Having worked so hard to put on a show worthy of Douglas Adams and his devoted fans, we are utterly devastated.
"It has been a pleasure to be a part of a company, band and crew who have become a close knit family. We know people hoping to see the show will be as horribly disappointed as we are, and offer our heartfelt apologies for any inconvenience this has caused.
The show, which kicked off its UK tour in 2012, reunited members of the original radio and TV cast including Mark Wing-Davey and Geoff McGivern. The voice of the book was played by a series of guest performers including Hugh Dennis and Anita Dobson.