Nick Grimshaw loses more listeners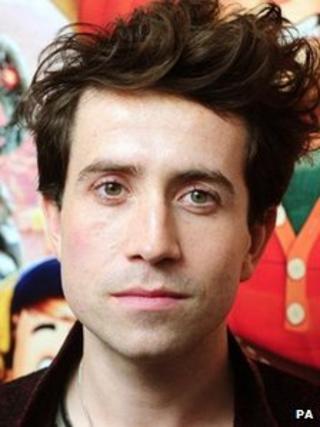 BBC Radio 1 presenter Nick Grimshaw has seen his audience figures slump by 300,000 over the last three months.
The 29-year-old breakfast DJ now has one million fewer listeners than his predecessor Chris Moyles, according to the figures from research body Rajar.
With 5.58m listeners a week, the breakfast show is suffering its lowest audience for a decade, easily beaten by the morning shows on Radios 2 and 4.
Grimshaw took over from Moyles in 2012, in a bid to attract younger listeners.
Radio 1 controller Ben Cooper said: "After the biggest set of changes to Radio 1 for a generation, we're really happy that the breakfast show sounds fresher, younger and more vibrant than ever and as a result 833,000 of the show's 'over-30s' listeners have moved on to other stations."
Chris Evans appears to be the main beneficiary, attracting 9.34 million weekly listeners, while Radio 4's flagship Today show draws 6.8 million listeners.
Evans' figures were up 800,000 on the same period last year, re-affirming his status as the UK's most popular breakfast DJ.
Grimshaw, by comparison, has lost 305,000 listeners in the three months to 24 October - with audiences falling by 17% on the same quarter in 2012.
He now trails Evans by 3.8 million listeners, a dramatic change from four years ago, when the breakfast shows for the two stations were almost neck and neck.
Radio 1's breakfast show is now close to its record lowest audience of 5.5 million, recorded by Sara Cox in the last three months of her tenure, in 2003.
Radio 2 continues to have the UK's biggest audience with 14.9 million listeners each week, up a million in a year. Radio 1 has 10.83 million listeners, marginally behind Radio 4's 10.87 million.
"Radio 2 is a remarkable success story and continues to reach huge audiences whilst never failing to surprise and amaze with the diversity of its output," said Radio 2 controller Helen Boaden.
Radio 3's total listener numbers rose 1.5% to just over 2 million, during a period that included its annual coverage of the Proms, while BBC 6 Music's listenership was up 6.9% year on year - despite a dip of 3.4% on the previous quarter.
BBC Radio 5 Live grew its audience to 6.12 million, rising 0.5% year on year, while digital sister station Radio 5 Live Sports Extra attracted a record 1.52 million listeners following its coverage of England's Ashes victory this summer.
BBC's Asian Network fell by 5% over the year, averaging 555,000 listeners each week.