Film star Sophia Loren wins 39-year tax legal feud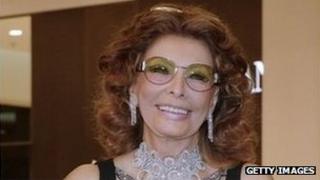 An Italian supreme court ruling has put an end to a 39-year legal dispute between Oscar-winning film star Sophia Loren and Italian tax authorities.
The argument centred around Loren's earnings in 1974. She claimed tax was owed on 60% of her income, but the state said it should be 70%.
The Court of Cassation ruled in her favour, saying the actress's earnings were covered by a 1982 tax amnesty.
"A saga that has lasted nearly 40 years is finally over," said Loren.
"I always look to the future and I leave bad experiences like this one behind me," she was quoted as saying by the La Stampa daily newspaper.
Her lawyer, Giovanni Desideri, said: "The supreme court has wrapped up a Kafkaesque case."
Loren, who was born Sofia Scicolone and started her film career in 1950, famously spent 17 days in prison in 1982 in a separate tax dispute - an incident that drew her fans to the jail near Naples.
She said at the time that her tax specialist had erred, meaning her tax return understated her earnings by about 5 million lire (then $7,000).
Entering the prison, she said she was being subjected to "an unjust situation due to a little mistake by a tax specialist".
The actress shot to fame internationally when she acted alongside Cary Grant in the 1958 film Houseboat.
She won an Oscar for her heart-rending performance in 1961 film Two Women about a mother raped while protecting her daughter in war-torn Italy.
In July, she was photographed on the set of a film version of Jean Cocteau's 1930 play La Voix Humaine - The Human Voice - which will be directed by her son Edoardo Ponti.