Metropolitan Police to be subject of BBC documentary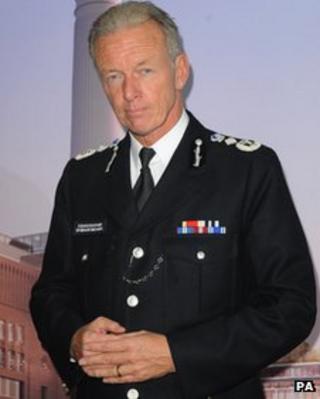 The Metropolitan Police Service will be the subject of a BBC One documentary series that will go behind the scenes at Britain's largest police force.
Channel controller Charlotte Moore said The Met would be the first "definitive" look at the "vital" organisation.
Over six hour-long episodes, she said the public would see the police force "in a way never seen before".
Met commissioner Sir Bernard Hogan-Howe said he was "delighted" to work with the BBC "on such an important project".
"I hope that over the coming months, we can reveal the true scale and complexity of the challenges faced by officers and staff across the service."
According to the BBC, the show will "take an in-depth look at how the Metropolitan Police Service works" and "show the scale and complexity of policing London on a day-to-day basis".
"We have been granted extraordinary, unprecedented access to film from top to bottom of the organisation," said Moore, who nurtured the series in her previous role as commissioning editor for documentaries.
The BBC One announcement coincides with news from BBC Three about five new factual and current affairs series.
These include Slum Survivors, a three-part series that tests young people's resourcefulness in the slums of Lagos, Mumbai and Jakarta, and The Human Tissue Team, a two-part look at tissue donation.