Turbo charges to top of UK box office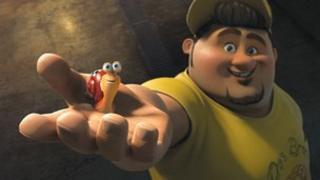 Animated snail-racing tale Turbo has beaten Tom Hanks's true-life hostage drama Captain Phillips to the top of this week's UK box office.
The Dreamworks film earned £3.9m including previews, compared with the £3.4m of Hanks's Paul Greengrass-directed thriller.
Action stars Arnold Schwarzenegger and Sylvester Stallone's prison break film Escape Plan was third with £961,470.
The top five was rounded off by Prisoners and Sunshine on Leith.
This week's figures are a lift on the previous seven days when Prisoners topped the chart for a third consecutive week, in a weekend which saw no release make more than £1m.
Turbo, which features the voices of Ryan Reynolds and rapper Snoop Dogg, flopped when it was released in the US earlier this year, earning $21m (£13m) over its first weekend.
With a reported budget of $135m (£83.6m) it only made $82.6m (£51.2m) in North America during its run, although it has since earned more than $224m (£139m) worldwide.
Hanks, meanwhile, has won rave reviews for his role in the film about a container ship seized by Somali pirates in the Indian Ocean in 2009.
The film opened this year's London Film Festival.
Bollywood action film Boss, starring Akshay Kumar, opened at number nine despite opening in just 63 screens. Averaging £3,732 per cinema, it took significantly more than Escape Plan's average of £2,656 per location across 362 screens.
Romantic drama Enough Said, starring Sopranos actor James Gandolfini in one of his final film roles opposite Julia Louis-Dreyfuss, missed out on a top 10 place but earned a respectable £170,357 from its 79 screens.
While a second bad week for Wikileaks drama The Fifth Estate, starring Benedict Cumberbatch as Julian Assange, saw it fall out of the top 10 to 13 after taking £118,397.