Homeland and Masters of Sex renewed by Showtime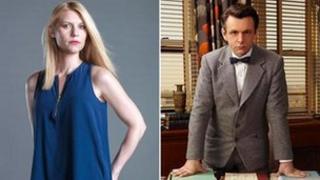 Counter-terrorism saga Homeland has been renewed for another season by US cable channel Showtime, as has 1960s-set drama Masters of Sex.
The fourth season of Homeland and the second of Masters of Sex will both comprise 12 episodes and air in 2014.
The shows are aired on Channel 4 in the UK on Sunday and Tuesday respectively.
The most recent instalment of Homeland was watched by 1.97 million, while Tuesday's episode of Masters of Sex attracted 848,000 viewers.
The overnight figures are down on the ratings achieved by the shows' debut episodes on 6 and 8 October respectively.
Homeland, starring Claire Danes as troubled CIA agent Carrie Mathison, was watched by 3.31 million viewers when it returned to UK screens earlier this month.
And the opening episode of Masters of Sex, which stars Britain's Michael Sheen as pioneering sex expert Dr William Masters, drew an audience of 1.43 million two days later.
In the US, both shows are broadcast back-to-back on a Sunday night, with the most recent edition of the terrorism drama attracting 1.8 million viewers and Sheen's drama watched by 1.4 million.
"Homeland continues to prove its strength for Showtime, and is one of television's most exciting, provocative and widely-discussed shows," David Nevins, president of entertainment at the network, said.
"The critical and audience reaction to Masters of Sex since its great launch has been incredibly gratifying. It's a privilege to get to work with such talented and creative people as [Homeland creator] Alex Gansa and [Masters of Sex's] Michelle Ashford, as well as their tremendous casts.
"They have each created truly original shows, with distinctive voices that are among the most admired series on television."