Dutch art theft trial: Three plead guilty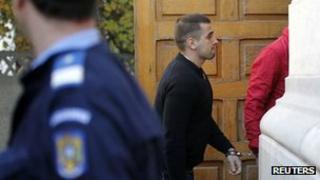 Three Romanian men have pleaded guilty to stealing seven paintings, including works by Picasso, Gauguin, Monet and Matisse, from a Dutch museum last year.
Radu Dogaru, Alexandru Bitu and Eugen Darie told a Bucharest court they took the paintings from the Kunsthal Museum in Rotterdam in October 2012.
The suspects admitted they brought the paintings to Romania and had tried to sell them on the black market.
The seven works have never been found and may have been burned.
Thieves broke in through a rear emergency exit of the museum, grabbing the paintings off the wall and fleeing within minutes.
The stolen works included two paintings by Monet, a 2002 piece by Lucien Freud and a self-portrait by the Dutch painter Meye de Haan.
Speaking in court on Tuesday, Mr Dogaru said security had been "practically inexistent" and he had "entered practically just with a screwdriver".
His lawyer went on to tell reporters his client said he had inside help. A spokeswoman for the museum declined to comment.
Mr Dogaru told the court the paintings had been handed over to a Russian Ukrainian man and had not been burned in his mother's stove as had been suggested.
Olga Dogaru, who is charged with handling stolen property, had told investigators she burned the paintings but later denied it.
Her son also claimed at one point he had offered to return five of the paintings to Dutch authorities, but they had declined the offer and demanded all seven.
Six Romanians have been put on trial in the case. One is still on the run and being tried in absentia.
The next hearing in the case will be held on 19 November.