Peter Greenaway honoured by Stockholm Film Festival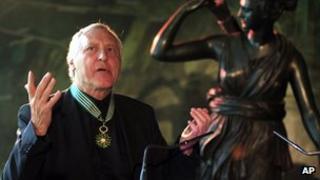 British film-maker Peter Greenaway is to receive the Stockholm Film Festival's prestigious visionary award.
The festival's jury praised The Cook, The Thief, His Wife and Her Lover director for "challenging the spectator like a true modern visionary".
The jury said Greenaway had "created a new cinematic language by questioning traditional notions of artistic expression".
Previous winners include Gus Van Sant and Wes Anderson.
Greenaway has directed more than 50 films, including The Draughtsman's Contract, Drowning By Numbers and The Pillow Book.
The director and trained artist will receive his prize - a bronze horse statuette - in Stockholm on 8 November, where he will also take part in a meet-the-audience session.
UK return
He is currently professor of film studies at the European Graduate School in Switzerland and has curated art exhibitions worldwide.
Earlier this year, Greenaway announced he was returning to the UK to film an adaptation of Thomas Mann's Death in Venice.
"There is a surge of film-making activity in England and the studios seem to be more available," he told Screen Daily.
Greenaway has not made a film in Britain since The Cook, the Thief, His Wife and Her Lover, starring Dame Helen Mirren, in 1989.
The film-maker famously declared that "cinema is dead" in 2002.
The Stockholm Film Festival runs from 6 to the 14 November.
Steve McQueen's 12 Years A Slave is the opening film.