He-Man cartoon producer Lou Scheimer dies aged 84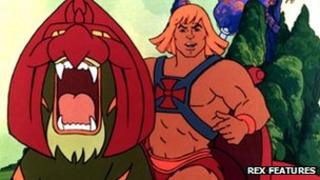 Lou Scheimer, the founder of the Filmation animation studio which produced He-Man and the Masters of the Universe, has died aged 84.
Pittsburgh native Scheimer died on Thursday, two days before his 85th birthday, his wife Mary Ann said.
Alongside his success with He-Man and The Archie Show, he won a daytime Emmy award for the 1974-75 season of the Star Trek animated series.
He leaves his wife, his daughter, Erika and his son, Lane.
Born in Pennsylvania in 1928, he graduated from Carnegie Tech University in Pittsburgh, with a bachelors degree in Fine Arts in 1952.
He, along with partners Hal Sutherland and Norm Prescott, founded Filmation in 1962 with a $5,000 loan from his mother-in-law, so-named because: "We were working on film, but doing animation".
Filmation's first major project was an animated sequel to The Wizard of Oz, followed in 1966 by an animated Superman series and then The Archie Show - based on the successful US comic books.
Animation style
Filmation's animated Star Trek series was widely praised and featured the voices of the show's original cast, including William Shatner and Leonard Nimoy.
In 1983, the company was approached by toy makers Mattel to produce a series based on their line of action figures He-Man and the Masters of the Universe. The cartoon ran for two seasons, each with 65 episodes.
Filmation's animation style sacrificed a degree of quality for the sake of quantity. Cartoons often appeared slightly jerky because of the cost-cutting use of fewer than the regular 24 frames a second.
However, He-Man was one of the most popular children's programmes of the 80s and was ranked by IGN magazine, in 2009, as the 58th greatest animated show of all time in their Top 100 list.
It has since gone on to become a cult favourite on home media.
Scheimer, also provided the voice of the magical character Orko and voiced several other animated characters through the years.
The franchise was adapted for the big screen, starring Dolph Lundgren as the titular muscle-bound "most powerful man in the universe".
With comedian Bill Cosby, Scheimer created Fat Albert, considered to be ground-breaking as the one of the first animated series centring on African American characters.
Filmation closed in 1989 and Scheimer formed a new company called Lou Scheimer Productions. He retired several years ago. His cause of death has not been revealed but he was understood to have been suffering from Parkinson's Disease.
DreamWorks purchased the Filmation library last year.