Shawcross work to replace stolen Hepworth sculpture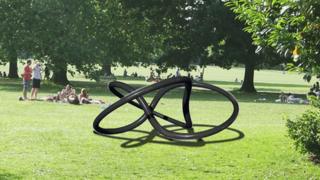 A piece by Conrad Shawcross has won a competition to replace a stolen Barbara Hepworth sculpture in a London park.
Shawcross's Three Perpetual Chords will replace Hepworth's bronze Two Forms (Divided Circle), which was stolen two years ago from Dulwich Park.
"It is an honour to have been selected, given the legacy of Barbara Hepworth," Shawcross said.
The artist beat other accomplished artists including Turner Prize nominee Anya Gallaccio and Eva Rothschild.
Hepworth's sculpture, which was insured for £500,000, was stolen by suspected scrap metal thieves from the park in south London.
It was cut from its plinth in December 2011 and has never been recovered.
The price it could fetch as scrap metal would only be a tiny fraction of its value as a complete work.
'Something playful'
Shawcross's piece will be made of cast iron and filled with concrete, to make it harder to steal.
The competition, organised by the Contemporary Art Society on behalf of Southwark Council, initially stipulated that submitted works could not be made out of metal to prevent thieves targeting it but the rules were changed when Shawcross entered his proposed sculpture.
Fabienne Nicholas, head of art consultancy at the Contemporary Art Society, said: "Conrad's series of sculptural works will create a new journey through the park - offering a thoughtfully sequenced experience for park visitors. These are sculptures that give not only aesthetic pleasure but something playful too - they, like the Hepworth, invite a human scale interaction."
Dame Barbara Hepworth, who died in 1975 in a fire at her studio in St Ives, Cornwall, is considered to be one of the UK's most important modern sculptors, with her work displayed in museums and public spaces around the world.
Shawcross found fame when his wooden sculpture, The Nervous System, was bought by Charles Saatchi ten years ago.
He recently showcased a timepiece installation in Camden's Roundhouse venue in north London.