Carol Burnett receives Mark Twain Prize for comedy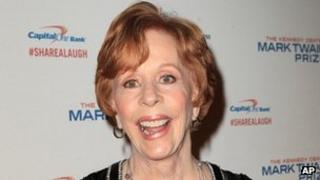 US comedian Carol Burnett has been honoured with the Mark Twain Prize for American Humor.
Dame Julie Andrews, Tony Bennett and Tina Fey were among those who performed in her honour at the Kennedy Center for Performing Arts on Sunday.
Burnett's variety show began in the 1960s and ran for 11 years, averaging 30 million viewers a week.
"This is very encouraging... it was a long time in coming," Burnett joked as she accepted the prize.
She added: "I understand because there are so many people funnier than I am, especially here in Washington.
"With any luck, they'll soon get voted out, and I'll still have the Mark Twain Prize."
Tarzan yell
Fey - creator and star of 30 Rock - applauded Burnett, 80, for opening doors for other female comedians. When Burnett first launched her own show, a TV executive told her the genre was "a man's game".
"You mean so much to me," Fey said.
"I love you in a way that is just shy of creepy," she joked.
Burnett got her first break when she was talent-spotted by bookers for the Ed Sullivan Show.
She then landed a role on Broadway and began to appear on The Garry Moore Show.
This led to Burnett signing a 10-year contract with CBS to do guest slots on sitcoms and perform in one TV special a year.
She launched the Carol Burnett Show in 1967, with guest stars including Lucille Ball, Jimmy Stewart and Ronald Reagan.
It won 22 Emmy awards. Burnett was best known for her "Tarzan" yell and for ending each show by tugging her ear, which was a personal message to her grandmother.
Tim Conway, one of Burnett's co-stars on her show, joked that he now spends his time travelling around the US for Burnett to receive awards.
"Thank you for being such a friend, such a generous person, not with salary, but generous."