OneRepublic knock Miley Cyrus from singles chart peak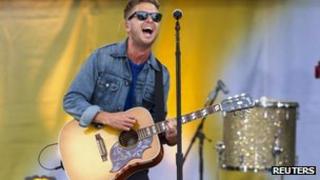 US rockers OneRepublic have topped the singles chart again with Counting Stars, a week after being knocked from the top by Miley Cyrus's Wrecking Ball.
They were number one two weeks ago, in a run of success for frontman Ryan Tedder, who wrote James Blunt's single Bonfire Heart, up two to number four.
Tedder has also written hits for singers including Adele, Beyonce, Ellie Goulding and Leona Lewis.
"This is by far the coolest thing that's happened to us," he said.
"I've had a number of number ones with other artists, but never one with this band. This is the highlight of the year."
Lawson were straight in at number three with Juliet, followed by Blunt, while Eminem's Rap God debuted at number five.
His eighth album, The Marshall Mathers LP2, is released next month.
UK pop group Lawson have now achieved five top 10 hits since forming in 2009.
In the album chart, John Newman's debut album Tribute beat big comebacks from Pearl Jam, Sir Paul McCartney and Cher.
Newman, 23, from Settle in North Yorkshire, found fame with his guest vocals on Rudimental's number one Feel The Love last summer.
Grunge group Pearl Jam made it to number two with Lightening Bolt - their highest chart placing in the UK since VS in 1993, which also made it to the same spot.
Sir Paul, 71, was at three with his 16th solo album, New, while Cher, 67, was at four with Closer to the Truth, her highest-charting studio album since Love Hurts topped the charts 22 years ago.
Britain's Got Talent finalists Jonathan And Charlotte were at number five with their second album Perhaps Love.
Synthpop pioneer Gary Numan debuted at number 20 with his 20th studio album, Splinter.