Tom Hanks and Emma Thompson at Saving Mr Banks premiere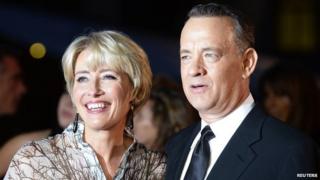 Emma Thompson has admitted she loved the "belligerence" of her character in Saving Mr Banks, a film about the long and difficult process of making the Disney musical Mary Poppins.
The film, which stars Tom Hanks as Walt Disney, had its world premiere in London on Sunday night. It officially brought this year's BFI London Film Festival to a close.
Both Thompson and Hanks walked the red carpet in Leicester Square to the delight of hundreds of fans who had braved heavy rain earlier in the day.
The film focuses on the real-life battle of wills between prickly author PL Travers, played by Thompson, and Walt Disney over the movie rights to her famous literary creation.
Directed by John Lee Hancock, the film is already being tipped for Oscar success. It is not released in the UK until 29 November.
Hanks, who walked the damp and chilly red carpet holding a mug of tea, told the BBC it had been "an honour" that two of his films had opened and closed the 10-day film festival.
The festival kicked off with maritime thriller Captain Phillips, a true story in which Hanks plays a ship's captain taken hostage by Somali pirates in 2009.
Speaking about his role as Walt Disney, Tom Hanks said: "In a lot of ways Mary Poppins was the crowning achievement of everything he did, it won all the Academy Awards, it was a huge monster hit and it was the last movie that he truly was hands-on."
Speaking to the BBC, Thompson said she had found the role of PL Travers "really difficult". The Australian-born British author was interesting, she said, because she was "full of contradictions".
In reality, Walt Disney had spent some 20 years in pursuit of the film rights to Mary Poppins. The main focus of the film is the two weeks in 1961 that Travers reluctantly spent with Disney in Los Angeles as he tried to win her over.
During the visit she was played songs by the Sherman brothers, which ended up in the 1964 film, such as A Spoonful of Sugar and Let's Go Fly a Kite.
"What was fun was inhabiting someone who refused to let the fairy dust work," said Thompson. "I loved her belligerence, I loved playing her rudeness, and her honesty."
She said she had wanted to work with Tom Hanks for years "then suddenly along came this very grown up drama about two artists who are both very complicated people, who expressed their traumas in very different ways, because they both had extremely difficult childhoods".
Travers, who died in 1996, so disliked the Oscar-winning Disney production that she never allowed any more Mary Poppins books to be adapted into films.
The cast of Saving Mr Banks also includes Irish actor Colin Farrell and English actress Ruth Wilson, who play the parents of the young PL Travers in 1906 Australia.
Asked about seeing the film premiere in London, screenwriter Kelly Marcel said: "It means everything to me. It's a home grown project that was written here in England so to close the London Film Festival feels like we are bring it home."
BFI London Film Festival director Clare Stewart said there had been a "great audience response" to this year's festival.
She said that the world premiere of Saving Mr Banks was a magical way to bring the event to a close.
She added: "There is a moment in the film when Walt Disney says to PL Travers that audiences around the world 'from Leicester Square to Kansas City' will be moved by Mary Poppins, and so I had to have that film in Leicester Square."
At the festival's awards ceremony on Saturday night, Sir Christopher Lee was presented with his fellowship from the British Film Institute by his friend Johnny Depp.
The prize for best film went to to Pawel Pawlikowski's Ida, about German occupation of Poland and the Holocaust.
The festival included gala screenings of Stephen Frears' Philomena, the true story of a woman's search for her lost son starring Dame Judi Dench and Steve Coogan, and Steve McQueen's 12 Years A Slave, starring Chiwetel Ejiofor, Michael Fassbender and Benedict Cumberbatch.
Other films included Alfonso Cuaron's space-odyssey thriller Gravity, starring Sandra Bullock and George Clooney, Ralph Fiennes' The Invisible Woman, a period romance centring on the affair between Charles Dickens and actress Nelly Ternan, and the Coen Brothers' Inside Llewyn Davis, about the 1960s New York folk scene.