Pakistani singer Zubaida Khanum dies aged 78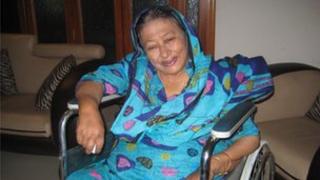 The funeral of Pakistani singer, Zubeida Khanum, who died aged 78 following a heart attack at her home in Lahore, has taken place in the city.
Khanum, who recorded almost 250 songs during her career, was famed for her performances during Lollywood's "golden era" of the 50s and 60s.
Prime Minister Nawaz Sharif described her as a "national asset".
She acted in the film Billoo in 1951 but found fame in 1953 with playback singing, pre-recorded for use in films.
She received great recognition from the Pakistani film industry for her playback work in the 1953 film Shehri Babu.
'Unforgettable'
During the early years of her career, she also did brief roles in a handful of films including Morni and Patey Khan alongside the late Noor Jehan.
President Mamnoon Hussain recalled her services for performing arts in the country and said they were "unforgettable".
Born in 1935 in Amritsar, Khanum migrated with her family to Pakistan after the partition.
She was the eldest of four children and her talent for singing was spotted at school by her teacher, who put her in touch with Radio Pakistan.
Despite her family being against a career in music, Khanum performed her first song in Punjabi.
Speaking to the BBC in one of her last interviews, she said: "I always had a passion for singing. I was so happy being in the studio.
"They loved my voice".
One of her favourite songs was from the hit film Saat Lakh called Aaye Mausam Rangeele.
"I loved its music and its lyrics," she added.
At the height of her career, Khanum, married renowned cameraman Riyaz Bokhari and left the music industry.
She went on to have two daughters and two sons. Khanum spent the last few years of her life using a wheelchair and living with her sons in Lahore.
One of her sons is the well-known cameraman Faisal Bokhari.