Thick Of It actor Franklin channels Charles Laughton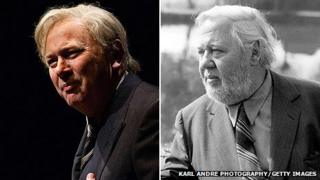 He made his name as an insufferable spin doctor in political satire The Thick of It and a plain-speaking manager in the BBC's Twenty Twelve. Now actor Vincent Franklin is on stage portraying one of Britain's greatest film stars, Charles Laughton.
The legend of Charles Laughton has faded in the 50 years since his death, but the actor was among Britain's first Hollywood superstars, a giant of the silver screen from the 1930s onwards.
Whether playing Henry VIII - a role that won him an Oscar in 1934 - or Rembrandt, Captain Bligh or Quasimodo, he was regarded by many as the greatest character actor of his age.
"I certainly felt very excited about the idea of playing Laughton when I was asked to do it," explains Vincent Franklin.
"Then within a week of being asked, when I'd started to read some books, I thought, this is the most arrogant thing I've ever agreed to do.
"If somebody said to an actor, 'Do you want to play Laurence Olivier? Do you want to play Gielgud? Do you want to play De Niro?' you'd go, 'No I'm not going to play De Niro. Unless you're as good as De Niro how can you possibly play De Niro?'
"But somehow I'd foolishly gone, 'Yeah, I'll play Charles Laughton.'"
Laughton was born in the Yorkshire seaside resort of Scarborough and it is in the actor's home town that Franklin is bringing the Laughton legend back to life.
A private and insecure person, Laughton never gave interviews. In the play, Franklin attempts to peel back the screen persona to reveal the real man.
"He was an extraordinary lost soul," Franklin says. "As a fat, bald, northern actor myself, the idea that you can be an actor is fine.
"But the idea that a man who is by his own [admission] an ugly man can become a film star is quite extraordinary.
"On the surface of it, he's an extraordinary, successful human being. But on the inside it's a man who struggled with his own religious beliefs, struggled with his sexuality and struggled with self-loathing while at the same time being a true artist."
The play, titled Laughton, is at Scarborough's Stephen Joseph Theatre, which was run by Alan Ayckbourn for 37 years.
On display in the foyer is a photograph of Laughton, the guest of honour when the building was opened as a cinema in 1936.
Franklin, from Bradford, was most recently seen playing Labour whip Michael Cocks in the National Theatre's 1970s political drama This House.
But he is most recognisable from his TV roles as the no-nonsense head of contracts Nick Jowett in Olympic spoof Twenty Twelve and the all-nonsense Conservative PR guru Stewart Pearson in The Thick of It.
The insufferably smug Pearson likes nothing better than to "imagineer the narrative" or "take a few turns on the ideas carousel".
The Thick of It looks to be on indefinite recess now that Peter Capaldi, who played Pearson's expletive-slinging nemesis Malcolm Tucker, has been cast as Doctor Who. Writer Armando Iannucci recently said the show "has quietly been put in its box".
"There's room for some specials," Franklin believes. "Whether Malcolm Tucker will be able to come back from Alpha Centauri or wherever he's been taken in the Tardis I don't know, but I hope so.
"I regularly meet some people from it and there is a real sense of, 'It would be nice to do one more, wouldn't it?'"
Unusually for an actor, Franklin also has a real job - a decade ago, he founded a company called Quietroom, which advises companies and government departments on how to communicate clearly.
In that capacity, he is the anti-Stewart Pearson. "We improvise quite a lot of The Thick of It and quite a lot of what I do is the exact opposite of what I would tell someone to do [at Quietroom]," he says.
For someone who advises people how to communicate, Franklin is suitably conscious of his choice of words as an interviewee. At one point he warns, "I'm just going to ramble for a moment now" and regularly checks: "Does that make sense?"
When Quietroom works for the government, there are some startled reactions when Franklin pops up in Whitehall between acting jobs, he says.
"Between the last government and this one, I went in to do an audit of the language the Treasury was using in things like the Budget and their website," the actor says.
"I had my Stewart Pearson beard on - because that's my beard - and I do get very strange looks from people walking around the Treasury or HMRC [Her Majesty's Revenue and Customs] from people going, 'Satan lives!'
"What's great about this show is that its biggest fans are people who work in government. Real MPs do want to come and have their picture taken with you, which always seems really bizarre to me."
Back in Scarborough, Franklin praises Laughton's writer, the author and geologist Roger Osborne, for his use of language.
"So much of what we do in life is about reading stuff and understanding what lies behind it," he says. "Does that make sense? Whether that's us buying an insurance project or playing Charles Laughton. So choosing the right words is really important."
Laughton is at the Stephen Joseph Theatre in Scarborough until 26 October.