Harvey Weinstein film Philomena 'to appeal against R rating'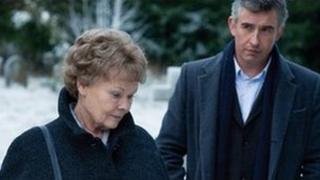 Film producer Harvey Weinstein is to appeal against a decision by US film censors to give his studio's latest film an R rating, according to reports.
Philomena received the rating from the Classification and Ratings Administration for two instances of bad language.
But the Weinstein Company will now officially appeal against the rating, The Hollywood Reporter said.
The British Stephen Frears drama stars Dame Judi Dench and Steve Coogan.
The film is based on the 2009 investigative book by BBC correspondent Martin Sixsmith about Irish-Catholic woman Philomena Lee's search for her son after being forced to put him up for adoption decades earlier.
The Weinstein Company plans to release the film in the US over the Thanksgiving period next month, however it has argued the R rating will affect the number of moviegoers who could potentially watch it.
The restricted R rating means people under the age of 17 may only see the film if they are accompanied by a parent or guardian.
In the UK, it has been given a 12A rating by the British Board of Film Classification, where children younger than 12 years of age must be accompanied by an adult.
Weinstein's studio previously became embroiled in a row with the Motion Picture Association of America (MPAA) in 2012 over the documentary Bully over the use of bad language in the film.
It opened in Los Angeles and New York without a rating, after the Weinstein Company chose to ignore the MPAA's original R rating.
The studio eventually agreed to remove the language and an edited version of the film received a PG-13 rating.