Row over Tony Blair 'selfie' artwork
By Ian Youngs
Arts reporter, BBC News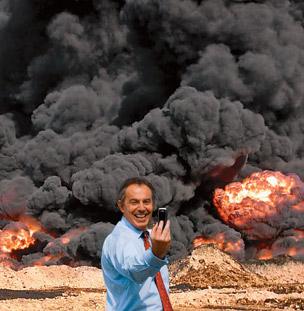 Two artists who created a montage of Tony Blair apparently taking his own photo in front of a burning oilfield in Iraq have accused advertising firms of banning the artwork from billboards.
Peter Kennard and Cat Phillips created the image, titled Photo Op, in 2005.
It was chosen by the Imperial War Museum North in Manchester as the image for a poster campaign to promote a new exhibition about modern art and war.
But two of the UK's biggest advertising companies refused to carry the image.
Photo Op combines a picture of the grinning former prime minister taking a self-portrait on a mobile phone, originally from the 2005 general election campaign, with a separate image of a blazing oilfield during the Iraq war.
It has previously been exhibited at Tate Britain and was recently described by The Guardian as "the definitive work of art about the Iraq war".
It is now in the Imperial War Museum North's Catalyst exhibition and the museum had intended to use it on posters and billboards.
But the artists, who go by the name kennardphillips, have accused advertising companies JCDecaux and CBS Outdoor of "political censorship" in refusing to carry it.
The two firms controlled between 50%-70% of the outdoor advertising market in 2011, according to a government report.
CBS Outdoor said the poster was refused after consultation with the Committee of Advertising Practice, which advises firms on whether ads may breach its code of conduct.
Neither gave details of which part of the code it breached, but the code includes rules forbidding ads that are misleading and are likely to cause "serious or widespread offence".
Kennard and Phillips said CBS Outdoor had told them they could not use images involving explosions on public transport, such as on the sides of buses. JCDecaux declined to comment.
"It feels like you're not allowed to show anything that appears dissenting," Phillips said.
"You get a lot of violence and sex in adverts and a lot of offensive things, but they're not critical in their offence. They're not creating an argument or a question mark.
"It feels like if you have anything that is a real show of dissent, it wouldn't be allowed to go up there and there's very little you can do about it."
The Catalyst exhibition opened at the Imperial War Museum (IWM) North in Manchester on Saturday. It is the museum's first major exhibition of war-inspired contemporary art inspired created since 1991.
The museum's director Graham Boxer said "a number of outdoor advertising suppliers" refused to run the proposed poster campaign.
He added: "IWM North aims to inspire discussion and debate about war and conflict and as such we have remained committed to using the kennardphillipps Photo Op image across other media, including on the website, in media coverage, on social media and of course in the exhibition."
A spokesman for the Advertising Standards Authority, which operates the Committee of Advertising Practice, said the ad companies "would have been mindful of the advertising rules that require ads are prepared responsibly and do not contain anything that is likely to be misleading, harmful or offensive".
Related Internet Links
The BBC is not responsible for the content of external sites.