Coen brothers receive France honour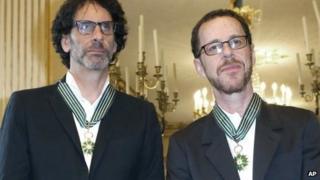 US filmmakers Joel and Ethan Coen have received France's highest cultural honour at a ceremony in Paris.
The brothers, who won three Oscars in 2008 for their crime drama No Country For Old Men, were each made a Commander of the Order of Arts and Letters.
Accepting the award, Joel said: "Sometimes life plays jokes on you - some of them are very unfortunate, some of them are very fortunate.
"This is one of the most fortunate jokes I think life has played on us."
The award is given by the French government to people who "significantly contributed to the enrichment of the French cultural inheritance".
Eight of the Coen's films have premiered at the Cannes Film Festival, with 1991's Barton Fink winning the Palme d'Or.
Their latest film, Inside Llewyn Davis, also won the Grand Prize of the jury at this year's festival.
Released in the UK next January and starring Carey Mulligan and Justin Timberlake, the film tells the story of a struggling singer-songwriter against the backdrop of the 1960s New York folk scene.
French Culture Minister Aurelie Filippetti, who presented the honour to the pair, said: "We have extremely strong links between French cinema and American cinema so it's natural there's this recognition for two of the greatest directors in the US today."
Other recent recipients of the honour from the world of film and music include Ringo Starr, Bono and Bruce Willis.