Ofcom to monitor quality of TV subtitling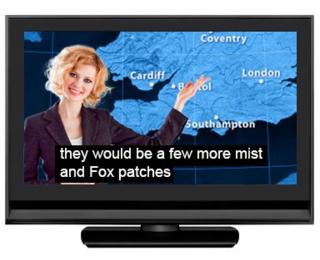 Broadcasting watchdog Ofcom will begin a regular audit of the quality of broadcasters' subtitles from next year.
It follows complaints by viewers about inaccurate subtitles, or subtitles which are delayed, freeze or disappear.
Under the new measures, broadcasters will be asked to monitor the quality of their subtitling on live TV shows every six months, for two years.
Subtitles are used by more than a million people in the UK suffering from hearing impairments.
In the past, viewers have made clear that, although pre-prepared subtitling is generally of good quality, the quality of live subtitles is often poor. In particular, the speed, accuracy and synchronisation (or latency) of live subtitles.
A consultation, which began in May and ended in July, suggested more problems arose when pre-recorded programmes were delivered to broadcasters too late to allow subtitling to be prepared in advance.
Ofcom intends to publish the first of its reports on subtitling standards in the spring of 2014.
In addition, the watchdog is asking broadcasters to report on any technical problems that disrupted subtitling.
These reports will allow broadcasters and viewers to monitor progress and see where there is room for improvement.
Ofcom will also use this evidence to consider whether changes to its current guidelines are necessary, and whether there is a need to set targets for broadcasters.
Following the consultation, some broadcasters have advocated greater use of block subtitling (in which a chunk of text appears on screen rather than a word by word basis) in programmes containing a mix of pre-recorded and live content, such as news bulletins.
Viewers have made clear that they prefer block subtitles, provided this does not come at the cost of increased delays, and as such, Ofcom has encouraged their use by broadcasters.
It has also called on broadcasters to consider a time delay to live programmes, which are not time-sensitive, in order to improve the quality of subtitles .
Ofcom's Claudio Pollack said the watchdog was taking "important steps towards improving the quality of subtitling on live programmes".
"Ofcom expects regular reporting by broadcasters to help improve subtitles over time, as well as allowing us to identify exactly which areas need most progress."
Seventy TV channels now provide subtitling in the UK.