Russell Brand to guest edit New Statesman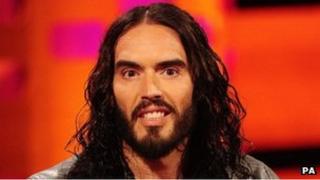 Comedian Russell Brand is to edit a special edition of British political magazine the New Statesman.
The 38-year-old will preside over a revolution-themed issue, with contributions from Alec Baldwin, Noel Gallagher and Naomi Klein.
In a statement, Brand said his "first act" as editor would be to rename the magazine "the Nude Statesman".
The comedian has recently been engaging with politics, appearing on both BBC Question Time and the Andrew Marr show.
His Question Time performance received mixed reviews. A polemic about the treatment of drug addiction, of which he has experience, went down well, but his views on Syria and the banking crisis were felt to be too simplistic.
The star, who quit the BBC in 2008 over the "Sachsgate" prank phone call row, also caused a storm at the GQ Man Of The Year awards last month, after criticising the event's sponsors, Hugo Boss.
Receiving the award for Oracle Of The Year, Brand declared: "If anyone knows a bit about history and fashion, they'll know it was Hugo Boss who made uniforms for the Nazis."
He was subsequently ejected from the ceremony, but defended his comments in a column for The Guardian.
"The jokes about Hugo Boss were not intended to herald a campaign to destroy them," he wrote, before skewering the uneasy relationship between celebrity culture, politicians and corporate sponsors at such events.
"Subsequent to my jokes, the evening took a peculiar turn," he noted.
"Like the illusion of sophistication had been inadvertently disrupted by the exposure. It had the vibe of a wedding dinner where the best man's speech had revealed the groom's infidelity. With Hitler."
'Puerility'
Previous guest editors of New Statesman include the former Archbishop of Canterbury Rowan Williams, whose criticism of the coalition government's policies caused a political row.
Chinese artist Ai Weiwei took the helm last year, and his issue won an Amnesty International award for human rights journalism.
In a statement announcing his issues, Brand said: "I am honoured to be editing an issue of the New Statesman.
"My first act is to edit the name of the magazine to the Nude Statesman, which will allay fears that this populist move will descend into puerility.
"This issue will either recapture the glory of JB Priestley's piece which created the Campaign for Nuclear Disarmament, or plunge the title into despair not seen since it alleged that John Major was giving Downing Street's caterer an unconventional bonus.
"I am also suggesting a 'Man of the Year' award ceremony and am looking for sponsors with a spotless past. No time-wasters please."
His issue will include discussion of climate change and gay rights as well as "transcendental meditation", the magazine said.
Deputy editor Helen Lewis said they had chosen Brand because he was "entertaining, inquisitive and provocative"
"I mean, looks-wise, he's no Ken Livingstone, but you can't have everything."