Andrea Begley: The Voice winner discusses her debut album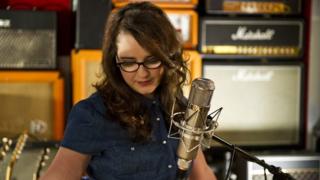 Andrea Begley only won the second series of The Voice in June, but her album is already finished.
The 27-year-old says she wants to avoid the mistakes of her predecessor, Leanne Mitchell - who waited a year to release an album, only to see it stall at number 134 in the UK charts.
The time constraints mean Begley's debut mostly consists of cover versions, with Bruce Springsteen's Dancing In The Dark and Jake Bugg's Lightning Bolt among the songs to receive an acoustic makeover.
But Begley also sings two original songs, including the title track, The Message.
The former law student, who has only 10% vision, talked to the BBC about recording her vocals "line by line"; will.i.am's protest at her victory on The Voice (he tweeted he was "sad" and "perplexed"); and how she would change the show next year.
Has it been a rush to get your album ready?
Obviously, we couldn't plan for what happened beyond the show, because nobody knew what the result was going to be - but I always had ideas in my head about things I'd like to do if I ever did an album. So we started with that kind of blank page and went from there.
What we tried to do was get some stuff from the show, and also do covers of songs I have loved over the years. We knew it was important to get out an album before Christmas.
Why was that?
From the point of view of what happened last year: Everyone knows things didn't go quite as well as they might have done. Leaving the winner's album for so long, it didn't keep the momentum.
For me, it was important to make a good job of it, but not take so long that people had forgotten about me.
Do you think you got the balance right?
Hopefully! I think the album captures different sides of me as an artist. Within the show I only really got to show a certain angle.
What do you mean by that?
I suppose what I mean is you've only got a certain number of performances, and you've got a time limit as well. I guess, for me, beyond the show it's great to show I can sing all kinds of things.
How long was the time limit?
It's quite short. One of them was 1 minute 10 seconds.
You find ways and means around it. It's all in the edit - picking out the bits people like to listen to. But there's no doubt about it, you are under a constraint. It's nice to have the luxury of doing a full song on the album!
Your audition song (Sarah McLachlan's Angel) is on the album. How far in advance did you decide to perform it on the show?
Pretty much from the get-go. As soon as I met the production team, I said: 'This is the kind of song I'd like to do. It isn't too over-played, it isn't too well-known, but it suits my style and I can sing it very well.' I very much nailed my colours to the mast with that song - and it bore out in the end. It really worked.
A lot of people, including will.i.am, said they were disappointed you beat Leah McFall. How did that make you feel?
Music is subjective and everyone has their own opinion. You'll always get people who'll prefer my music to what Leah or Will are into. The thing is, I love all kinds of music. I love the stuff that Will does, so it was never case of me versus them.
Will's tweet is very much in the past. He spoke to me afterwards and said 'look, it's just because I wanted my act to win, and I would have supported you if you'd been my act'.
Some people suggested you won because you're visually impaired. Was that a shock?
It's a little bit disappointing, I guess, if people go down the route of saying I only won because I had a story. That's not giving the public the credit it's due. People don't vote for those reasons - it's a singing show, at the end of the day, and I was there on the same basis as everyone else.
I never, ever tried to make out that I was there because I was visually impaired.
Did your law degree come in handy when you were reading your recording contract?
[Laughs] It's always helpful, in the sense that it keeps your wits about you. But my experience was a long way off the world of showbusiness.
How does singing in the studio compare to live performances?
It's very different. Studio days are tiring because you're standing in front of a microphone for hours on end.
People don't realise how meticulous it is. You record everything line by line by line by line. But then, when you hear it back, you realise how much you need to focus on each individual part to get it right.
Your aunt is country singer Philomena Begley. Did she give you any tips?
I've had quite a lot of contact with my aunt in the past couple of months, and she's been keeping me advised of songs, and things I should watch out for. She's very excited about the album coming out. There's a little bit of country on it, so she'll be happy with that.
What did she tell you to watch out for?
Just to make sure I get my opinions across. I'm always pretty determined anyway, and I speak my mind. So I definitely did that.
What was the biggest argument you had? Did you have to pull a diva strop?
Not yet - but I'm working on it. I want a newborn kitten in every dressing room!
You played a concert with Evelyn Glennie for people with sensory disabilities in over the summer. What was that like?
It was done in conjunction with the RNIB and Action for Hearing Loss. My set was made accessible to people with hearing loss by having sign interpreters there, so I just had to make sure I stuck to the set list and did all the lyrics in the correct order!
It's easy to assume that people with hearing loss wouldn't get anything from a concert, but I guess there's a visceral, physical element to live music.
Of course, and obviously you've got all the visual aspects of watching the band. If you've got some level of hearing, you can pick up some of the concert and enjoy it.
It's the same for me if I go to see a film. I won't necessarily get all the visuals, but it's still an experience - going out to the cinema and the big screen, and all that.
Has going to the cinema become more accessible with things like audio description?
It's definitely improving, although audio description is nowhere near the level I think it should be.
Someone asked me recently what I felt was the single biggest problem for people with visual impairment. From my point of view, I'd like to get people to understand what visual impairment is, so that if they come across someone with a stick or a dog, that they know not to freak out or ask silly questions.
Does that happen a lot?
I run into it very rarely, but you do get it sometimes. People have come up and shouted loudly at me. They must have thought my ears didn't work, as well as my eyes!
Finally - what do you think of the new line-up on The Voice?
I'm excited. It's good to give it a fresh look.
I know some people think Danny and Jessie leaving might be a little too much disruption. But the new setting will keep viewers' interest alive. Everybody wants to see what kind of banter there'll be between the new coaches.
If you were auditioning this year, whose team would you want to be on?
I don't know! Possibly Tom, or Kylie. I think will.i.am's going to have a lot of competition from her. She has a sparkle and personality that'll be really good for the show.
And if they put you in charge, what would you change?
For me, definitely, the knock-out rounds were absolutely horrendous. So I'd make them do two knock-out rounds, just to be a little bit devious.
You'd make it harder!
I'd just like to fully test them. See if they're up to the challenge.
Andrea Begley's album, The Message, is out on Monday, 21 October.