Michael Fassbender too 'busy' for Oscar campaign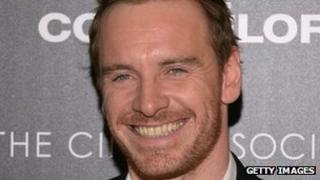 Michael Fassbender has said he will not campaign for an Oscar nomination, despite being hotly tipped for his role in 12 Years A Slave.
"It's just a grind. And I'm not a politician. I'm an actor," the Irish Prometheus star told GQ magazine.
Two years ago, Fassbender hit the campaign trail, chasing an award for his performance as a sex addict in Shame, but failed to earn a nomination.
"I won't put myself through that kind of situation again," he added.
Fassbender is widely considered a shoo-in for an Oscar nomination for his role as Edwin Epps, a sadistic Louisiana plantation owner, in the new film which has been directed by Shame's Steve McQueen.
"You know, I get it. Everybody's got to do their job. So you try and help and facilitate as best you can."
But the X-Men star - who is currently filming the latest sequel in the Marvel franchise, Days of Future Past - says he will be "too busy working" to take part in the endless parade of screenings and interviews that Oscar campaigning requires.
"I just don't really have time," he told GQ's Zach Baron.
"I'll be in New Zealand. I'll be on the other side of the world," he added, explaining that he will be shooting his production company's first feature - a Western - before moving on to film Macbeth, opposite Marion Cotillard.
Last year, the 36-year-old called award ceremonies "a vanity thing", adding, "It does become important to you. And it shouldn't."
In 2012, Joaquin Phoenix flatly refused to campaign for an Oscar for his role in The Master, deeming the awards circuit "total, utter bulls**t". The actor went on to win a best actor nomination.
The film, 12 Year a Slave reunites Fassbender with McQueen, who gave the actor his first big break when he cast the actor as Bobby Sands in Hunger.
It will open across the UK in January and is the harrowing story of a free black man Solomon Northup, played by Britain's Chiwetel Ejiofor, who is kidnapped and sold at auction.
Fassbender will next be seen on the big screen in Ridley's Scott's The Counselor.
In some US awards related news, it was also announced that the release of Gone Girl has been moved to October next year, putting the film - based on Gillian Flynn's bestselling book - in contention for the 2015 awards season.
The thriller, starring Ben Affleck and directed by David Fincher, will open on the same weekend in the US as Fincher's multi award-winning The Social Network opened in 2010.