Prisoners tops chart as UK box office slumps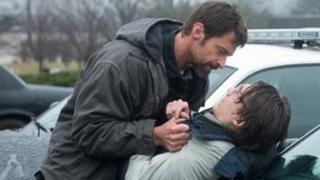 Child abduction thriller Prisoners has held on to the top spot on the UK box office chart in a weekend that saw no release make more than £1 million.
The Hugh Jackman movie remained the UK's number one picture for the third week in succession, despite making only £968,990 between Friday and Sunday.
Its takings were almost twice that of WikiLeaks drama The Fifth Estate, which opened in a disappointing sixth place.
The film made £502,495 in its first three days in UK and Ireland cinemas.
Previews of animated movie Turbo, not included in this week's chart, are understood to have taken more than any title in the official Top 15.
The DreamWorks release officially opens in the UK on Thursday and will have its preview takings added to its first weekend tally.
The lacklustre landscape allowed Edinburgh-based musical Sunshine on Leith to claim second place in this week's chart after opening last week at three.
Dexter Fletcher's film, which features songs by Scottish sibling duo The Proclaimers, took £732,296 in its second weekend on release.
Woody Allen's Blue Jasmine is ranked at number three with a third weekend tally of £642,241.
The film, which boasts an Oscar-tipped performance by Cate Blanchett, has now made £3.33m, making it Allen's most profitable title ever at the UK and Ireland box office.
With Filth at four and Rush at five, The Fifth Estate held the dubious honour of being this week's highest new entry.
This is despite a major promotional push and the presence of Sherlock star Benedict Cumberbatch as WikiLeaks founder Julian Assange.
Its failure to woo UK audiences was further underlined by the performance of marital drama Le Week-End at number seven.
On a screen-for-screen basis, Roger Michell's film - which stars Jim Broadbent and Lindsay Duncan as a long-married couple spending a weekend in Paris - made more than twice as much as its tech-savvy rival.
Further down the chart, action sequel Machete Kills languished in 12th place with a three-day tally of £165,586.
Its takings were only marginally superior to those recorded by Romeo and Juliet, an adaptation of the William Shakespeare play by Downton Abbey creator Julian Fellowes, whose £137,448 tally saw it open outside this week's Top 15.