Sir Tom Stoppard 'can't remember' how to write plays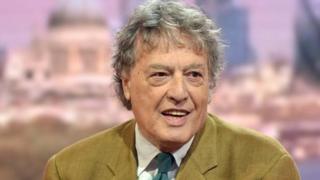 Award-winning writer Sir Tom Stoppard, 76, has admitted struggling to remember how to write a play.
He told The Times that he has found it hard to find time to focus on what will be his first stage play in seven years.
"I can't just put things aside for a day and come back. My brain just isn't good enough anymore," said Sir Tom, whose career has also seen him write extensively for TV, radio and film.
"I know what I want to do in the next six months. I don't know if I can."
Sir Tom, whose radio play Darkside - inspired by Pink Floyd album The Dark Side of the Moon - was recently broadcast on BBC Radio 2, told the newspaper (subscription) that he was hoping to find a hideaway so that he could concentrate on writing.
"When I was younger I could do something useful just by being free for half a day, but now I need five days to get the world I've left out of my head and ten days or a fortnight not talking to anyone to hold what I need to hold inside my head," he said.
Sir Tom added: "I wish I could remember how to write a play. I can't remember how they happened."
However the writer, who spent four years adapting Ford Madox Ford's book Parade's End for a BBC drama which aired last year, admitted taking on multiple projects could be to blame.
"There are too many things I find it difficult to say no to," he said. "So I'm clearing the desk and planning to work without interruption."
Sir Tom, who won an Oscar for the Shakespeare in Love screenplay he co-wrote with Marc Norman, also adapted Anna Karenina for the big screen last year.
Breaking Bad
He has written more than 30 plays for the stage, including The Real Thing and Rosencrantz and Guildenstern are Dead, and this latest untitled project would be his first since Rock'n'Roll in 2006.
It is said to tackle "the intersection of science and metaphysics".
Earlier this month, Sir Tom collected this year's Pen Pinter Prize at the British Library in London.
It was established in 2009 in memory of playwright Harold Pinter, to be awarded to a writer who casts an "unflinching, unswerving" gaze upon the world and shows a "fierce intellectual determination...to define the real truth of our lives and our societies".
But when asked about his long-term plans, Sir Tom joked that it involved "a very protracted deathbed in which I watch Breaking Bad and all the box sets people keep talking about."