Maxine Powell, head of Motown Finishing School, dies at 98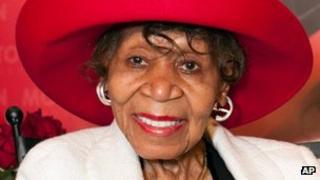 Maxine Powell, the etiquette instructor who taught Motown Records' artists how to carry themselves during the label's '60s heyday, has died at the age of 98.
Her Artists Development Department - known as Motown's Finishing School - was considered as important to its operations as any singer or producer.
Some of its training included teaching Marvin Gaye to sing with his eyes open and the proper way to exit a limousine.
Powell died of natural causes on Monday at a hospital in Southfield, Michigan.
Her death comes less than two months after a tribute event held in her honour at the Motown Museum in Detroit.
The August event saw singer Smokey Robinson describe Powell as an "integral part" of the label's legacy.
Born in Texarkana, Texas, Powell was raised in Chicago and began her career as an actress before moving to Detroit.
There she opened the Maxine Powell Finishing School, which led to her being brought to Motown to help prepare its artists for their lives in the spotlight.
Label chief Berry Gordy remembered some of Powell's advice to her students included "do not protrude the buttocks".
"You had style," said the Motown founder in a videotaped tribute played on 26 August. "You gave them class."
"I love all the Motown artists,'' Powell said on that occasion, adding she intended to teach "until there's no breath left in my body".
According to a Motown Museum spokeswoman, she died at Southfield's Providence Hospital "peacefully surrounded by Motown family and close friends".