Press views: David Brent and Foregone Conclusion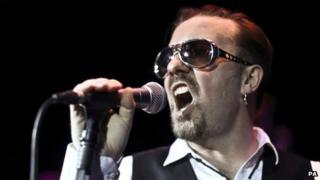 Ricky Gervais has performed the first of two gigs as The Office character David Brent with his band, Foregone Conclusion, at London's Bloomsbury Theatre. Gervais revived his well-loved cringeworthy character from the hit series with a performance on Comic Relief earlier this year. Brent has recently appeared on YouTube giving guitar lessons.
Dominic Cavendish - The Telegraph
After a disarming warm-up spot by comedy rap artist Doc Brown and a perfunctory intro from The Office's Keith (a heavy-breathing, scotch-egg eating Ewen MacIntosh), a goatee-d Brent and co ploughed through the numbers. They got whoops and cheers. They even raised the roof with that jaunty reggae spoof Equality Street.
But even with an encore of the properly catchy Free Love Freeway - the song that first demonstrated Brent's thwarted talent - the set was over after 40 minutes or so. There was little between-songs banter, and from that squirm-making figure who famously "fused Flashdance with MC Hammer" in his infamous goon-ish dance, surprisingly few moves.
Read the full review here
Brian Logan - The Guardian
This is much more enjoyable than Gervais's own recent stand-up, which displays Brent-esque insensitivity but few of that character's redeeming features. What it isn't, though, is particularly sophisticated musical comedy. The laughs derive from Brent's foot-in-mouth personality and the occasional choice couplet: "you know just where you're heading," he sings in Slough, "it's equidistant 'tween London and Reading."
Read the full review here
David Jeffries - The Mirror
Playing air guitar in between vocals and sipping on a cheap can of Fosters, the good news is success won't ruin David Brent. Ricky Gervais was performing songs as Brent from The Office for the first time in concert on Monday night. The 500 tickets sold out in 60 seconds and fans were not disappointed, giving him and the band a standing ovation at the end of a 40-minute set.
My personal highlight was Lady Gypsy, where we learned Brent "lost his heart" and his virginity after "18 summers on earth" to a traveller. This folk-tinged song about his awkward conversation with the girl before they went to bed had the crowd including Professor Green and DJ Greg James in stitches.
Read the full review here
Bruce Dessau - London Evening Standard
The encore could only be Freelove Freeway from The Office - "The love is free and the freeway's long," now given the turbo-charged amplified treatment. And then Brent was gone. Hitting the A4 freeway back to Slough no doubt. This 45-minute work in progress was terrific and there is talk of bigger shows. I'm not sure how much further the joke could be stretched. Knowing Ricky Gervais though, all the way to the O2 Arena.
Read the full review here
Steve Bennett - Chortle
The styles are mixed. In Ooh La La he employs every Americana stereotype; Spaceman Came Down is a thinly-disguised parody of Chris De Burgh; and then there's his cringeworthy be-diddly-diddly-diddly-deeing attempts at white-boy rap in the Comic Relief song which started this revival, Equality Street.
We could probably have done with more between-song banter; that's what gives the songs context and allows us to laugh more at Brent; and it's hard to believe such a raging egotist wouldn't try to hog the microphone. The first half of the gig seemed to just coast, but in the second, it simply become fun; tracks enjoyable either on an ironic level or just because everyone else is having a good time.
Read the full review here