Kate Winslet on her 'fragile' new role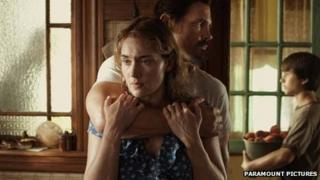 Kate Winslet has said her new film Labor Day marks a departure from the strong, feisty women she is used to playing.
The Titanic and Little Children star appears alongside Josh Brolin in a much more "fragile" role, as a troubled single mother who is forced to take an escaped prisoner into her home.
"I haven't really played a character who was so obviously weak in so many ways," Winslet said at the London Film Festival.
"That was intriguing to me. But I admired her strength as well and I felt it was very important that she was strong, because I think that we all have the capacity to be both of those things, no matter how broken a person can sometimes be."
Winslet, who won an Oscar for her performance as Nazi concentration camp guard Hanna Schmitz in The Reader, said she loved the fact that her character Adele still managed to be "a good mother" to her teenage son.
And she admitted to mothering 14-year-old co-star Gattlin Griffith, who played son Henry, off camera too.
"It was one of the most wonderful working relationships that I've ever had," said Winslet.
"I just knew that I had to really be his friend and I wanted to guide him. I mean he was really my priority on set."
Luckily the actress also found time to bond with Brolin, who revealed he "adored" his co-star.
"I think we were very lucky," said Winslet. "Because I mean I hate Leo (DiCaprio) for example."
"Obviously that was a joke!" she quickly added, referring to the long-running friendship with her Titanic and Revolutionary Road co-star DiCaprio.
Brolin, who plays Frank, a man on the run after 19 years behind bars, revealed they have come in for some stick about the relationship that develops between him and Adele.
"You know I've heard it a couple of times. 'It's not very likely this would happen'," said Brolin
"And then you go in to watch Jurassic Park, and you go, 'But this would?' You know, it is indeed a movie."
'Earnest and lovely'
For director Jason Reitman, who has had hits with Juno, Up in the Air and Young Adult, the film marks a slight departure from his usual style.
"Reading a book or a script for the first time that you're considering directing, it's either love at first sight or its not," explained Reitman of the story, based on a novel by Joyce Maynard.
"I just clicked with this book. It made me weep. Having spent a career of just trying to make people laugh, it's kind of nice to be after their tears."
However one particular scene involving Adele, Henry and Frank making a peach pie could certainly diffuse the tension.
It bears striking similarities to the famous pottery scene between Patrick Swayze and Demi Moore in 1990 film Ghost.
"You know it's funny, I keep on hearing this Ghost reference and it's kind of awesome," Reitman told the BBC.
"The Ghost scene, and I guess my pie scene, boarder on being ridiculous. They're an inch away from being satirical and yet they're earnest and lovely."
And he revealed pies actually played quite a large role on set.
"Joyce (Maynard) taught me to how to make a pie, Joyce taught Josh to make a pie. Josh made a pie every single day of this shoot," said Reitman.
"You'd show up at his cottage and he'd be there in an apron, this picture of masculinity, talking about 'look at the crust!'. He'd get all excited."
Brolin said he honed his catering skills while working in a restaurant for three years when he was younger, but his career never took off as his father James Brolin had hoped he would be a lawyer.
"I like cooking very much, I cook for my kids all the time," said Brolin.
"I cooked many pies, this is true. When you watch the film, we gain more weight. Every 15 minutes you see everybody a little bit heavier."
Labor Day is being screened as part of the London Film Festival, but will be released across the UK in February.