Ethan Coen stage plays 'might come to UK'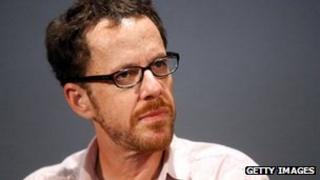 Acclaimed film-maker Ethan Coen has revealed that some of his stage plays might be heading to the UK for the first time.
Coen is best known for his movie-making partnership with brother Joel on films such as Fargo, The Big Lebowski and True Grit.
But he also has what he describes as a "part-time" career as a playwright.
His first full-length stage play, Women or Nothing, has just ended an off-Broadway run in New York.
Speaking to the BBC while promoting the Coen Brothers' new film Inside Llewyn Davis at the London Film Festival, Coen said there had been talks about bringing some of his earlier works to the capital.
"There's nothing definite, but hopefully the first bunch of one-act plays I did with Neil Pepe [artistic director] at the Atlantic Theater Company might be coming here."
Almost an Evening, comprising three of Coen's short plays, was staged by Atlantic in New York in 2008. Two other productions of short plays, Offices and Happy Hour, followed.
Fargo series
In 2011, Coen's one-act play Talking Cure, along with plays by Woody Allen and Elaine May, appeared on Broadway under the title Relatively Speaking, staged by John Turturro.
Speaking to the Associated Press earlier this year, Coen said the reason he began writing plays was a mystery, even to him.
"I don't know why. You know, it's kind of like doing movies. You see a movie and you go, 'OK, I can try one of those. Maybe I could do that.' It's the same impulse: that would be fun."
He added: "It's recreational. It's part-time. I'm a play hobbyist. I'm a gentleman playwright."
His debut full-length play, Women or Nothing, had its world premiere at the Linda Gross Theater in August and was extended to 13 October.
It tells the story of a lesbian couple and the lengths they go to to have a child without going to a sperm bank.
On his future plans as a playwright, Coen told the BBC: "I plan to keep doing it, but I don't know know what the next one will be."
The Coen Brothers' Inside Llewyn Davis, which tells the story of a hapless singer-songwriter on the 1960s New York folk music scene, will be out in the UK in January 2014.
Joel and Ethan Coen are also executive producing a 10-part television adaptation of Fargo, their Oscar-winning 1996 film, which will star Martin Freeman and Billy Bob Thornton.