Charlie Hunnam leaves 50 Shades of Grey film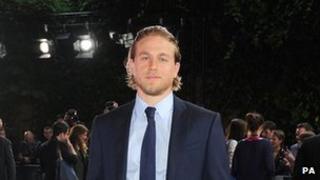 British actor Charlie Hunnam has pulled out of the film adaptation of the erotic bestseller 50 Shades of Grey.
It was announced in September that The Sons of Anarchy actor would play billionaire Christian Grey.
Universal Pictures said his departure was a mutual decision due to a scheduling problem with Hunnam's TV commitments.
The book's author EL James tweeted her best wishes to the actor.
Artist and film-maker Sam Taylor-Johnson will direct the movie version of James' novel, scheduled for release in August 2014.
Published in 2011, Fifty Shades of Grey follows the sexually-charged relationship between billionaire Grey and college student Anastasia Steele.
Coveted roles
US actress Dakota Johnson will play Anastasia and Jennifer Ehle has been cast as her mother.
The novel and its two sequels, Fifty Shades Darker and Fifty Shades Freed, have become a literary phenomenon that earned James, 50, a reported $95m (£61.5m) last year.
There had been intense speculation over who would win the coveted lead roles in the film adaptation.
Since winning the role there have been reports that Hunnam had been overwhelmed by the attention and had got cold feet.
But the statement from Universal Pictures said his departure was due to "Hunnam's immersive TV schedule which is not allowing him time to adequately prepare for the role of Christian Grey."
Matt Bomer, Cilian Murphy, Ian Somerhalder and Alexander Skarsgard are among the actors being tipped as Hunnam's replacement.