Newman goes it alone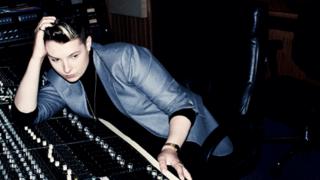 British soul singer John Newman releases his highly anticipated solo album, Tribute, this week.
It follows on from his success as a featured artist on Rudimental's number one hit, Feel The Love, last year.
His debut solo single, Love Me Again, went straight to the top of the UK charts when it was released in July.
Newman spoke to the BBC about almost becoming a mechanic, a life-changing tumour and music being his punch bag.
Your debut album Tribute is released this week - what response do you think it's going to receive?
I don't know. When I make music, I do care about the response because I want to continue what I'm doing and that's the key - that it's successful enough for me to go back into a studio and do the same again.
Your single Love Me Again has sold more than a million copies worldwide - was that a surprise?
Massively. It is when you're sat in a small studio, songwriting. Even when it hits radio it's incredible. I didn't expect it with any of the tracks - my own or with the Rudimental track - so it does feel pretty crazy.
Many people will know you as the guy who featured on Rudimental's single. How important was that collaboration?
It's always weird when people ask me about it as a collaboration because it genuinely started out as a few guys in a studio having a laugh until people started building it up. We were just mates making music. In terms of it being a platform for me, it was incredible for what I do now and a great introduction to the music industry. I learnt a lot about my live show, about myself and about touring.
You grew up in Settle, a small town in the North Yorkshire dales. What was life like growing up?
Well boring! The only thing to do was to get drunk and fight on weekends. We didn't have cinemas, bowling alleys and the swimming pool was horrible. There was nothing to do. In terms of a professional life, you became a plumber or mechanic or plasterer and then got a wife, a kid, a house and I really didn't want that. It was really frustrating for me. It was like a blanket over my eyes.
You began training to become a mechanic - quite different from a career in music.
I was fooled into thinking I wanted to be a mechanic by the town I was living in. When I moved to Leeds at the age of 16 I realised I wanted to make music.
When did you first realise you could sing?
I still don't think I can sing that well. I don't think I'm technically brilliant at all and I'm not trained very well but maybe that's why I am different to everyone else. The point of development for me was when I was living in Leeds and I lost two of my best friends in a car crash and I was singing and songwriting and playing guitar every day.
Who inspired you growing up?
I was DJing house music and producing bits of jungle and hip hop and I was really into 90s stuff and late disco then too. When I moved to Leeds I started getting into soul and listened to a lot of people like early James Brown and Wilson Pickett. When I was growing up my mum played a lot of Motown compilations, but now after studying soul and looking into the production I learned a lot about it and now she feels a little belittled by my knowledge!
Were people supportive when you decided to pursue music?
No - my family were very supportive, but the people in the town where I grew up thought I was ridiculous and laughed at me when I was playing gigs.
Meeting Rudimental - how did that come about?
I used to work in a bar and my supervisor at the time introduced me to Kesi and they let me move into their house and work on my music. After that I met the guys just to make music with them. That's how organic it was - we just met and made music and chilled out together.
Just when things were going well - and Feel The Love was about to come out - you ended up in hospital. What happened?
I had a brain tumour, which was shocking and I was going blind. It was really scary and I wouldn't ever wish it upon anybody, but it was actually a blessing in disguise for me because it matured me and when I got out I just wanted to smash it with my career and with the Rudimental boys.
Has that impressed upon the album?
Definitely - it's upped the level of the album and how much I wanted to pull of an incredible record.
There is a lot of musically uplifting tracks around at the moment by the likes of Rudimental, Naughty Boy and London Grammar. Why is that suddenly a movement?
We just came through at the same time in the summer. I think the reason it's uplifting is that it's radio friendly.
But the album is a pretty big break-up record with feelings of loneliness. Did you write all of the tracks from personal experiences?
Yes. In terms of it being uplifting in the production, I make my demos first before I write lyrics and I have fun with them. Then I write about 10 pages of lyrics until I think 'ok, now I've got to form this into something'. I'd been through a break up and that's when the album starting coming together because I needed to express myself and music is very therapeutic for me. I think of it like my punch bag and I needed to get it out.
Do you find it quite easy to write about your experiences?
Yes but no! It's always difficult to express yourself like that but I'm glad I've got music to be able to do it.
Lots of singers who have big hits as featured artists just disappear. How relieved were you that your first solo single went to number one?
Not relief, just happy because I just wanted to be able to make an album - the only reason I want the success is so I can continue doing this. It's not so I can walk around with million dollar chains around my neck and drive around in Ferraris. It's just so I can write the music I enjoy making in incredible studios.
I don't think I'll ever stop enjoying making music, although it's hard to say right now because I'm well into it. If I stop enjoying it in the future, I'll stop because it's not music anymore - it's celebrity and that doesn't appeal to me.
Who would you most like to work with?
I've been offered collaboration opportunities left, right and centre but I just didn't want to do it. If this album sells well I want to be proud of it because people I know have bought in to me as an artist and into the music, not into a big name that's on the album.
Will you be racing back into the studio?
I've already started coming up with the ideas and I'm ready to go now, but my managers want me to do more promos, so that'll have to wait for a while.
Tribute is released on 14 October.