Katzenberg offered to pay $75m for more Breaking Bad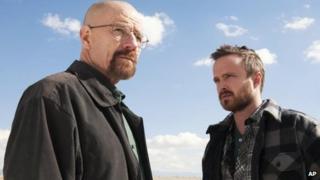 Jeffrey Katzenberg, the CEO of DreamWorks Animation, has revealed he offered to pay $75m (£47m) for three new episodes of Breaking Bad.
He told Mipcom TV festival in Cannes that he wanted to air the hour-long episodes online, in six-minute chunks.
Mr Katzenberg hoped the subscription service would prove the "greatest pay-per-view television event for scripted programming anybody's ever done".
Hit AMC drama Breaking Bad came to a dramatic finale earlier this month.
"There is absolutely no doubt in my mind that millions of people would have downloaded those episodes," said Mr Katzenberg of his attempt to prolong the show's life beyond its five seasons.
Elaborating on the unsuccessful Breaking Bad pitch, Mr Katzenberg told The Guardian newspaper: "My idea was literally that you'd pay 50 cents a day for 30 days, so it would be $15, and I actually think there are 10 million people around the world that would have done that.
"That's $150m, so the $75m I was prepared to pay would have delivered a 100% return on investment. And I'm trying to get people to think about this space in a new way by telling that story. It's emblematic of an opportunity coming."
While giving Mipcom's keynote speech, he told TV executives that distributors would continue to pay a premium for high-quality content, whether it lives on traditional television or online.
According to The Hollywood Reporter, the DreamWorks chief recently paid $33m (£20.7m) for Brian Robbins' YouTube channel AwesomenessTV, a deal he said is an "enormous opportunity".
Driving viewers
It currently has 909,000 subscribers and 176 million views and it has spawned a successful Nickelodeon series of the same name, utilising the YouTube content.
"It gets us directly in touch with the teen audience in a way that movies and TV can't," said Mr Katzenberg.
He made the point that younger consumers are not only watching more content online, but are far more engaged with content viewed on touch-screen devices than they are with traditional televisions.
Mr Katzenberg said the internet is "a great incubator of talent and concepts" and has the "ability to drive viewers" to television, as it has already been doing with AwesomenessTV.
DreamWorks Animation also has a five-year deal to create 300 hours of original "kid-targeted" content for Netflix.
"Whether the media is old or the media is new, content continues to drive success," said Mr Katzenberg.
He insisted films would remain the "heart and soul" of the DreamWorks Animation brand but it would "look like a very different company" in 15 years time.