NoNoNo: Whistling their way to chart success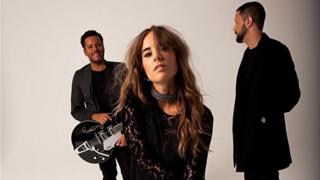 Swedish imports NoNoNo are about to launch an assault on the UK charts with their intoxicating pop anthem Pumpin Blood. Despite its whistled refrain, it was born from the band's frustrations with the music industry, they tell the BBC.
It's late August and Stina Wappling is chilling out at her country house in the woods, one-and-a-half hours north of Stockholm.
She needs the rest, because soon she'll be spun across Europe and the US in a promotional whirlwind for her band's breakout single Pumpin Blood.
A cheery pop riot, it's climbing up the global airplay charts after being featured on an advertisement for a certain popular phone brand.
"I haven't heard it on the TV because I don't have a telly," admits Wappling, "but I know it's there".
She doesn't have any qualms about her music being used in a commercial. "It's one way to get the music across to more people," she argues, at a time when broadcasters have abandoned pop music shows.
"So I don't mind it, as long as it's not a commercial for something evil or bad."
Such as?
"I wouldn't want to be in a diet bar commercial."
Hit makers
Wappling has been around the music industry since she was 17, when Warner Brothers signed her to a publishing contract.
She spent her summers working with various songwriters while she completed a psychology degree in Brighton - but the dream didn't live up to the reality.
"People are really hit-oriented," she says. "They want to replicate something that is a hit right now - like that would be the best thing that could ever happen.
"But that made me really sad, and I started thinking I didn't like writing music that much."
Disillusioned, she started working as a psychiatric nurse in a day centre for people with mental disorders.
"You help them with their medicine and their day-to-day activities," she explains. "They're in apartments surrounding the centre, so they can always come in to you if they have a problem or they want to talk."
She also found a way to put her musical talents to use.
"I don't know if it's proven, but there are two people I work with who are really amazing with music," she says. "It seems it can relax a haunted brain.
"If you have schizophrenia or something like that, and there's lots of impulses firing off in the brain, music can help you focus and get into a space where you're free from voices and illusions for a little bit.
"I feel like I've experienced that. It can be really good for someone who has those kinds of disorders."
Wappling hasn't entirely given up on psychiatry ("when I'm 40, I'm going to be a therapist," she says) but music eventually came calling again.
Her salvation came in the form of Astma and Rocwell (Tobias Jimson and Michel Flygare), two producers who turned out to be kindred spirits.
"It kind of happened gradually," she says.
"I was working on my solo project and they were working as producers, and we noticed we liked the same kind of songs."
Their tastes were so similar, in fact, that it started to cause problems.
"We always wanted to keep the songs for our own projects!" the singer laughs. "In the end, it was so much better if we could put all our energy into one project.
"Everyone had been thinking about it unconsciously. When Tobias and Michel asked me, it was like 'of course'. It was almost a relief."
And so, NoNoNo was born in summer 2012.
The name, disappointingly, is not a tribute to 2 Unlimited's No Limits (ageing ravers take note: Stina is too young to remember it). Instead, it's a two finger salute to the uninspired writers they'd been working with.
"It's so scary to say no, to close a door," says Wappling.
"You worry that you won't know what to do next. But I think it's more probable that you'll find something you really want to do when you give yourself space.
"So we think NoNoNo is something that's positive. You have so much more freedom than you think."
Inspiration
With its defiant, optimistic lyrics ("And the whole wide world is whistling!") Pumpin Blood was one of the first songs the band completed.
"It almost wrote itself," recalls Wappling.
"It all started with Michel having the whistling tune on a very basic track. He played it to me and it made me really, really happy, instantly.
"I was like, 'I really want to write something on top of this.'"
Whistling is a dangerously unstable element for any songwriter to handle: For every Sitting On The Dock Of The Bay, there's a Wind Of Change. Were they worried it might go wrong?
"If it had been 'let's make a whistling hit,' then maybe we'd have had to worry," says the singer.
"But it came without a plan. We don't really analyse the music we make - because if you calculate it, that's when it can get a little bit cheesy."
While Pumpin Blood is poised for a UK release in November, we're playing catch-up with Scandinavia, where it was a major hit earlier this year.
The single was preceded by another, equally-infectious record, Like The Wind, which marries the squawking vocals of Kate Bush to the stroppy percussion of fellow Swede Lykke Li.
As a result, the band are under pressure to release an album at home, while touring the rest of the world as newcomers.
"The plans are different everywhere," says Wappling. "Everything is really ahead in Sweden. It's a little bit difficult to keep it straight in your head!"
The album is almost finished, she says. They just need a decent idea for the title.
"Oh, I had a really, really awful one just before I went to sleep," she cringes. "Peace, Love and Cinnamon Buns!
"Very strange. I don't even know where it came from. So I gave up and fell asleep."
Pumpin Blood is released in the UK on 3 November. NoNoNo play the Ja Ja Ja Festival, a celebration of Nordic music, at London's Roundhouse 9 November.