Jennifer Saunders reconsiders Ab Fab film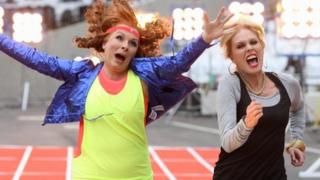 Jennifer Saunders says she hopes to get the long-discussed Absolutely Fabulous film off the ground next year.
The comedy writer and actress told BBC Radio 4's Front Row that, after years of delays, she may finally bow to pressure from fans.
"Because everyone's saying 'Why don't you write it?', I'm thinking 'Yeah, why don't I write it?'," said Saunders.
"It would be quite easy, Joanna Lumley would like it. You know, I might well do it," she continued.
Saunders, who played PR Edina Monsoon in the hit comedy series opposite Lumley's magazine editor Patsy Stone, said she felt a lot of pressure to deliver a script that was good enough.
"Everyone keeps going, 'Oh why don't you do a film? Why don't you do some more?'. And you keep thinking, 'Because the expectation is so high!'
"You think 'Well we could really mess it up'. And so, why mess up something that is actually still perceived as being quite good?"
But, with her diary currently clear for 2014, Saunders said the film was looking more likely than ever.
"I'll do something, I've got some little pet projects that I keep tinkering away with," she said.
"One of them might be the Ab Fab film, I don't know. As we're going into winter, a nice little summertime film seems rather attractive."
Saunders recently resurrected Absolutely Fabulous for three special episodes to celebrate the sitcom's 20th anniversary.
They were aired on BBC One on Christmas Day 2011, New Year's Day 2012 and in July to mark the London 2012 Olympic Games.
Bad reviews
Since then, the comedian has seen her short-lived Spice Girls musical open and close within six months.
Saunders said she did not know whether Viva Forever!, which was produced by Mamma Mia's Judy Cramer, would ever return to the stage.
Front Row's Mark Lawson asked her if she blamed critics for its failure:
"I sort of do, yes. People were saying, 'Oh you'd better have your hard hat on because they're going to go for you'. And that was before anyone had ever seen it. So there was that feeling around that they were waiting to give it a bad review," she said.
"It was such a massive oil tanker of a thing to get going because of all the rights and the music and the orchestrations. And the castings, which are so bizarre, because every part has to be covered by someone else who's already in the cast, and all the dancers and all the rest of it.
"It's just a massive vehicle. It was an astounding thing to work on."
Saunders has just published her autobiography, Bonkers: My Life in Laughs.
"I probably wouldn't have written it if someone hadn't asked me to write it, that's the truth. I always said I'd never write a book. Dawn (French) has written a book - it seemed like really hard work," she said.
"It was all Clare Balding's fault. She wrote that terrific book, I went to her book launch and was persuaded by her rather charming editor to have a go. So I did."
You can hear the full interview on Front Row on BBC Radio 4 at 19:00 BST on Wednesday, 9 October.