Downton Abbey creator Julian Fellowes defends storyline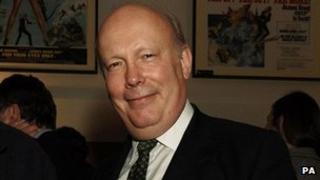 Downton Abbey creator Julian Fellowes has defended a controversial storyline in the latest episode of the costume drama, which drew dozens of complaints.
ITV received 60 complaints after Anna May Bates (Joanne Froggatt) was attacked and raped by a guest's valet.
"The whole point of the way we do things on Downton is we don't do them gratuitously," Fellowes told the BBC.
"We are interested in exploring the resultant emotions and the effect these things have on people," he added.
Fans took to Twitter on Sunday to express their "shock" and "distress" at the "sick" and "sensationalist" storyline.
But Fellowes, who won an Oscar for the screenplay of Gosford Park in 2002, rejected the criticism, saying he was "sorry" if fans felt the show couldn't "go there".
'Compliment'
He pointed out the attack took place behind closed doors, saying: "If we'd wanted a sensational rape we could have stayed down in the kitchen with the camera during the whole thing and wrung it out.
"The point of our handling is not that we're interested in sensationalising but we're interested in exploring the mental damage and the emotional damage," he said.
Froggatt also defended the scenes, telling BBC Breakfast she was "proud" that the show could tackle such a weighty subject.
"I think it's a really brave thing to do... I believe that Julian has written it in a way that is not gratuitous at all," she said.
"We all felt a big responsibility to get it right."
Fellowes said the plot development did not signal a new direction for the drama, which is now in its fourth series.
"Downton deals in subjecting a couple of characters per series to a very difficult situation and you get the emotions that come out of these traumas.
"When you handle very difficult and sensitive story lines, the minus is that they do expect more work from the audience but the plus is they can take you to a helpful place in terms of self analysis," he said.
"The fact that [viewers] engage with it is sort of what you pray for as a programme maker, because with most series that's not happening.
"It's always a compliment that everyone gets so involved in the show," he added.
'Shame upon the house'
An average of 9.2 million viewers watched Sunday night's episode, with a peak audience of 9.9 million.
A warning alerting viewers to the upsetting scenes involving Mrs Bates and Lord Gillingham's valet Mr Green was broadcast before the episode aired.
ITV said on Monday it had received 60 complaints, while broadcasting watchdog Ofcom also received a number of complaints - although it cannot yet release figures.
"All of this is about taking characters to the brink," explained Fellowes.
"We know Anna is a strong personality but it doesn't mean she will be able to be strong through this.
"The whole rest of the series, for her story and for Bates' story, is seeing how she negotiates her way through this. I don't think we ever have a sense that she leaves it behind," he said.
Froggatt said later episodes would "explore the emotional journey of Anna and Bates after this event", adding that Fellowes had "done a beautiful job at hitting the right note with it".
She said that the writer was "adamant" that they would not depict "that kind of violence against a woman" on screen, adding: "That's something he didn't want in a show of his, and that's an incredible thing in this industry in this day and age."
She said the show still had "shock value" without "anything graphic" being shown.
The actress explained that the series' historical advisor, Alastair Bruce, had told her that 100 years ago, when the story was set, women felt unable to tell the police about sexual assaults.
"There was still such a stigma attached to any kind of attack like this that you were very much in danger of losing all of that," she said.
"And if a woman lost her reputation that would bring shame upon the house, she could lose her job, she could lose her husband. And society still saw it as no smoke without fire, 'well he's only a man - he couldn't help himself.'"
Nigel Harman, who played Anna's attacker, previously told ITV's This Morning he was "amazed" by the storyline, "because for a show like Downton it really leaped out as a bold and risky idea".
The drama has not been afraid to shock viewers in the past, with the unexpected death of key character Matthew Crawley bringing last year's Christmas episode to a sombre conclusion.