Tori Amos debuts 'magical' musical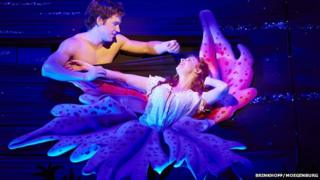 Singer Tori Amos says it was "magical" to see her long-awaited debut stage musical open at the National Theatre.
The Light Princess, which Amos co-wrote with Samuel Adamson, is based on George MacDonald's 19th Century fairy tale about a girl who floats in the air.
They have given the story a modern twist, examining the impact of grief and sexual awakening on teenagers.
"Its been a completely inspiring project - it's pushed me," said Amos immediately after the opening night.
The American singer-songwriter - whose 13 albums include Little Earthquakes and Under The Pink - has been working on the The Light Princess for more than five years.
It had been scheduled to open in April 2012, but was postponed for rewrites at the suggestion of National Theatre boss Sir Nicholas Hytner.
Both Amos and Adamson told the BBC the delay had made their writing partnership stronger.
"Musicals take a long time to get right, the ecology of them is quite delicate," said Adamson.
"I think it's stronger as a result of the delay and we pulled our socks up, frankly."
Staged at the Lyttleton Theatre, The Light Princess is directed by Marianne Elliott, whose theatre credits include War Horse and The Curious Incident of the Dog in the Night-Time.
Like those productions, The Light Princess mixes live action with puppetry and back projection.
The story takes place in opposing kingdoms where a princess and a prince have lost their mothers.
In one kingdom, Princess Althea - unable to cry - becomes light with grief and floats into the air. In the other, Prince Digby becomes so heavy-hearted that he can never smile and trains as a soldier.
"There were areas we wanted to pursue that were not in the original fairytale," explained Adamson.
"Lightness is metaphor for all sorts of things that teenagers of either gender go through.
"Teenagers of any age deal with drugs and sex and finding out who they are, and we wanted to make sure that within the fairytale context that we addressed all those issues."
Amos, who has a 13-year-old daughter, added: "It is a rite if passage becoming an adult - it's really tough whether in your teens or your 20s having to be responsible and to deal with things. These are not easy times.
"Our biggest challenge was that we had to make sure that a fairytale could work in the 21st century."
The role of the 16-year-old floating princess Althea is played by flame-haired Rosalie Craig, who on stage resembles a young Tori Amos.
The actress sings and acts, seemingly effortlessly, while upside down or being twirled around in the air.
"It's something I've learned over time, now it's second nature - it's as big a surprise to me as anyone," she said.
Having composed her debut stage musical, Amos isn't ruling out writing another one.
"Being a writing partnership - which is what I have become with Sam - I wouldn't be hurt if he went off and wrote with someone else. I would understand that," she said.
"But if I got another crack at it I'd sure like Samuel Adamson along for the ride."