French director Patrice Chereau dies at 68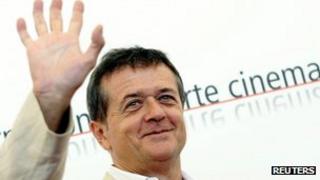 French cinema, opera and theatre director Patrice Chereau, whose work included the acclaimed film La Reine Margot, has died at the age of 68.
Elisabeth Tanner, co-director of the Artmedia agency which represented Chereau, confirmed he had died after a long illness.
French president Francois Hollande said: "The cultural world is mourning."
"France loses an artist... who is its pride across the world," his statement continued.
Ms Tanner added: "He had an extraordinary vitality right until the end."
The Oscar-nominated La Reine Margot (Queen Margot) won the Cannes Jury prize in 1994.
It starred Isabelle Adjani as a young Queen Margot, who found herself trapped in an arranged marriage against the backdrop of a religious war between Catholics and Protestants.
Another of his films, Intimacy, won the Berlin Golden Bear best film award in 2001.
'Explicit scenes'
Starring Mark Rylance, Timothy Spall and Marianne Faithfull, the tale of sexual obsession was based on the book of the same name by Hanif Kureshi.
The controversial movie featured explicit sex scenes but Chereau defended it, saying: "It is not like a porno film, not at all erotic sometimes, but it is beautiful because it is life".
While revered in his home country for his theatre productions, it was Chereau's production of Wagner's Ring Cycle at the Bayreauth opera festival that attracted international attention.
Staged between 1976 and 1980, the production, set in the industrial age, is still seen as a groundbreaking piece.
Chereau's assistant on the Ring Cycle, Nicolas Joel, is now the director of the Paris Opera.
He said he was "overcome" by the news of Chereau's death.
"He did me the honour of asking me to go with him to the Bayreuth Festival for the centenary Ring Cycle," he added. "I still have wonderful memories of the time we spent together."