Homeland UK ratings slightly down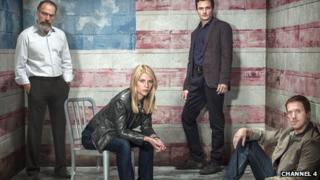 US counter-terrorism drama Homeland has returned to UK screens with overnight ratings marginally down on last year.
The third season opener attracted an average 2.2 million viewers on Channel 4 including +1 services, compared with the 2.3 million that watched the first episode of season two.
The figure is expected to rise when catch-up ratings are added next week.
Sunday's episode saw the CIA dealing with the fallout after the car bomb explosion which ended the last series.
However critics were left unimpressed with the absence of Damian Lewis's character, the marine-turned-terrorist Nicholas Brody, who was last seen on the run.
"The only Brody family member anyone actually cares about was awol for the entire episode," The Independent's Ellen Jones said.
Sunday night ratings
Metro's Keith Watson added: "If it wasn't previously clear how much this gripping and intelligent thriller relied on Lewis's Nicholas Brody and his tangled chemistry with Claire Danes as agent Carrie, then the evidence was writ large in last night's talky, downbeat opener,"
Sarah Crompton from The Telegraph picked apart the plot's plausibility, saying: "While it was a joy to watch Mandy Patinkin and F Murray Abraham strut and spar as this ancient Odd Couple, it stretched credulity that they would have ended up in charge, however many of the high command had been killed.
"Even less likely is that they would have managed to organise the assassination of "six targets on three continents in a tight time window".
ITV drama Downton Abbey - which was broadcast at the same time as Homeland - was the most-watched programme on Sunday night with an average 9.2 million viewers including +1 figures.
Sunday night's earlier TV offerings also saw 8.4 million people tune in to The X Factor to see the final six acts chosen to take part in the live shows which begin next week.
An average 8.2 million people saw former golfer Tony Jacklin become the first celebrity to be voted off Strictly Come Dancing on BBC One.