Italian director Carlo Lizzani dies after balcony fall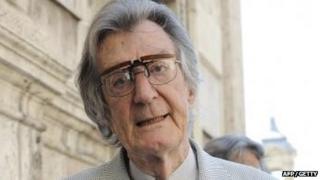 Tributes are being paid to Italian director Carlo Lizzani, 91, who died on Saturday after falling from a third-floor balcony at his house in Rome.
Local news agencies said authorities were investigating if it was suicide.
Lizzani, who was head of the Venice Film Festival for four years, directed 1968 film The Violent Four and worked on Rossellini's Germany Year Zero.
Fellow Italian director Ettore Scola told the ANSA news agency: "This is a time of great sadness."
President Giorgio Napolitano, who had known Lizzani for decades, honoured the filmmaker for his contributions to "cinema, to culture and to the democratic development of our country".
Lizzani started out as a film critic and then screenwriter for famous neo-realist, Rossellini.
As well as a writing credit on his 1948 film, Germany Year Zero, Lizzani also earned an Oscar nomination for his work on Giuseppe De Santis' 1950 film Bitter Rice.
He was awarded best director by the Academy of Italian Cinema in 1968 for his own film The Violent Four about a manhunt for bank robbers.
He won its best screenwriter award for 1996 film Celluloide about the making of Rossellini's masterpiece, Rome, Open City.
'New energy'
Throughout his career Lizzani collaborated with film directors including, Jean-Luc Godard, Marco Bellocchio, Bernardo Bertolucci and Pier Paolo Pasolini.
He directed the Venice Film Festival from 1979-1982, and was a member of the jury of the Berlin Film Festival in 1994.
Paolo Baratta, president of the Biennale - which includes the film festival - praised Lizzani's work.
"The Biennale is crying on the day of Carlo Lizzani's death," said Baratta.
"He knew how to give the festival new energy. He knew how to create a nucleus of young students and experts that would represent in future years the true elite. The world of Italian cinema owes him a lot."
Lizzani began his career just after World War II in 1948 with a documentary about Italian Communist Party leader Palmiro Togliatti.
His death comes nearly three years after another well-known director, Mario Monicelli, died after jumping from a hospital window in Rome.