Jay Hunt denies age discrimination in McCririck case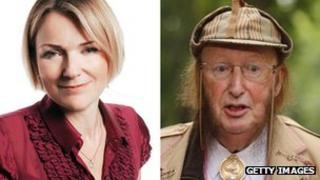 Channel 4's Jay Hunt has denied racing pundit John McCririck's claims that she was a "serial age discrimination offender".
Speaking at an employment tribunal in London, Ms Hunt said she felt there was "no correlation" between younger presenters drawing younger audiences.
She accused Mr McCririck of making "false allegations".
The 73-year-old - who was dropped by the channel last year - is accusing his former employers of age discrimination.
Ms Hunt - chief creative officer at Channel 4 - told the tribunal she had instigated voluntary training courses on discrimination at the broadcaster after she joined from the BBC, adding that she had "learned her lesson" from the Miriam O'Reilly case.
Ms O'Reilly, who was in her 50s when she was dropped from the BBC's Countryfile programme, won an age discrimination case against the corporation in 2011.
Mr McCririck had cited Moira Stuart's decision to leave the BBC while Ms Hunt was the BBC's controller of daytime. Ms Hunt said she had no involvement in the Stuart decision.
In a statement, Ms Hunt noted: "John McCririck's allegation that I am a 'serial age discrimination offender' is untrue.
"I have been responsible for a channel or part of a channel for the past eight years. In that time, hundreds of on-screen talent decisions have been run past me by those making them.
"Only one of those decisions has ever led to a claim of age discrimination and, contrary to what John McCririck says, I have learnt from that case."
She added: "I had no reason to believe that anyone in the team which worked up the new programme had acted on the grounds of John McCririck's age, and that remains the position."
'Chauvanistic extraordinaire'
Jamie Aitchison, Channel 4's commissioning editor for sport - who was responsible for dropping Mr McCririck from the channel's horse-racing coverage - told a tribunal earlier this week that the pundit's "exaggerated tone" was "out of step" with the channel's coverage.
His opinion was echoed by a senior television producer, giving evidence on Friday, who had previously called for Mr McCririck to be dropped from the revamped racing line-up.
Carl Hicks, part of production company IMG - which is also being sued by Mr McCririck - told the central London hearing that the commentator "was not appropriate and there was not an appropriate role for him".
"John was an eccentric and seen, at worst, as a loud-mouthed and chauvinistic extraordinaire which was not what I wanted to be part of the team to broaden racing."
He also told the hearing that Mr McCririck was inclined to upset his fellow colleagues.
In his tribunal witness statement, he said: "My view remained that John McCririck was not right for the programme and I thought he should not be included in any capacity.
"I was fully aware that John was one of the most recognisable faces in horseracing," adding that he held the pundit's expertise for the subject in the highest regard.
"However, I did not think his exaggerated presentation style was consistent with a more serious programme and was aware that he had a potential to offend and alienate viewers and potential viewers.
In March 2012, Channel 4 secured the rights to broadcast all UK horse racing events for the following year, including "crown jewel" events such as Royal Ascot and the Grand National. A new-look team, fronted by Clare Balding, took over last year.
The hearing continues.