Anoushka Shankar discusses impact of Delhi gang rape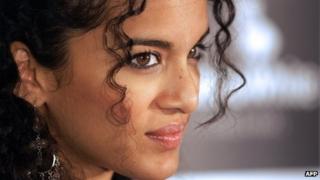 Musician Anoushka Shankar says she was prompted to reveal her experience of sexual abuse after learning of the gang rape and murder of a woman in Delhi.
Shankar, daughter of legendary Indian sitar player Ravi Shankar, said in February she had been abused by "a man my parents trusted" in her childhood.
Her revelation followed the fatal attack on an Indian student, for which four men have been sentenced to death.
"Her story is the apex of millions of stories," Shankar told BBC Radio 4.
Speaking on the Front Row programme, she said: "No-one I knew could help being affected by the gravity and intensity of that attack - and if it resonates with something in our experience then obviously it doubles the impact of hearing a story like that.
"I felt quite conscious as an Indian woman that there was a very unique moment happening where the entire world's attention was on sexual violence and on the role and position of women in India.
"I felt almost an obligation [to talk about my experience]. It didn't feel dragged out of me. If I was ever going to talk about my story, that felt like the right moment."
Shankar, 32, took the decision to talk about her experiences in a video, recorded in her London home, in which she appealed for people to support a campaign in memory of the gang rape victim.
"As a child I suffered sexual and emotional abuse for several years at the hands of a man my parents trusted implicitly," she said.
She added the attacks had included "groping, touching and verbal abuse".
Class system
Reflecting on the statement, the musician told Front Row's John Wilson: "It was something I never spoke to the media about.
"It had never felt like something relevant in a public context until this moment where I thought 'hang on, it's important for people to realise that this kind of thing can happen to anyone, anywhere'.
"I think there's a class issue in India where there can be an assumption that things like this don't happen to people from upper classes or who are privileged. I think part of what shocked people within India was that [the victim] was a middle-class girl. It's so ridiculous."
The musician has responded to the attack, and tried to address its causes, with a track on her new album, Traces Of You.
She said the song, which references the 23-year-old victim's name in its title, tries to capture a sense of the horror of the attack.
The album, recorded with producer Nitin Sawhney and her sister Norah Jones, also addresses the death of her father last year.
Shankar said her experiences had informed the spirit of the record, and brought a sense of "resilience" to the music.
"It's not necessarily about the passing of my father, it's about me passing through the passing of my father.
"There's a way that we all go through horrible and painful things and I'm not nullifying it in any way when I say we do go on.
"My childhood experiences were one of the big experiences for me [but] I know as a woman I've come through that.
"At some cost, but I've come through it."
You can hear the full interview with Anoushka Shankar on BBC Radio 4's Front Row at 19:15 BST on 4 October, 2013. It will then be available on the iPlayer.