Miley Cyrus and Sinead O'Connor row escalates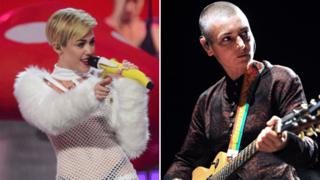 Pop star Miley Cyrus has hit back at Sinead O'Connor, after the Irish singer warned her not to be exploited by the music business.
In a series of tweets, Cyrus mocked O'Connor, comparing her to US actress Amanda Bynes before alluding to O'Connor's mental health problems.
O'Connor responded with another open letter to the singer, accusing her of "irresponsible" behaviour.
The Irish singer told her to "remove her tweets immediately".
The tit-for-tat conversation began after Cyrus, 20, cited O'Connor's video Nothing Compares 2 U as an inspiration for her explicit Wrecking Ball video.
O'Connor, 46, said she was prompted to write, "in the spirit of motherliness" after "phone calls from various newspapers" who wanted the singer-songwriter to comment upon similarities between the two videos.
'Concerned'
In the video for Nothing Compares 2 U, O'Connor sheds a single tear as she performs the Prince-penned break-up ballad.
Cyrus cries in the promo clip for Wrecking Ball, which shares similar lyrical themes to O'Connor's song. But the video also finds her licking a sledgehammer and swinging naked on a metal demolition ball.
O'Connor said she was "extremely concerned" that those around Cyrus had led or encouraged her to believe "that it is in any way 'cool' to be naked and licking sledgehammers in your videos".
Cyrus, who found fame as the child star of Disney children's show Hannah Montana, has been criticised in recent weeks for her controversial performances, particularly at the MTV Video Music Awards in Brooklyn last month.
O'Connor continued: "The message you keep sending is that it's somehow cool to be prostituted.. it's so not cool Miley... it's dangerous.
"It is in fact the case that you will obscure your talent by allowing yourself to be pimped, whether it's the music business or yourself doing the pimping," added O'Connor.
Responding on Twitter, Cyrus wrote: "Top of the mornin to ya."
She added a screen shot of O'Connor's tweets from 2012 in which the Irish star, who has bi-polar disorder, referred to her own mental health problems, asking for Twitter followers to recommend a psychiatrist.
She compared the singer to former child actress Amanda Bynes, who is currently undergoing psychiatric treatment.
"I don't have time to write you an open letter cause I'm hosting & performing on SNL this week," Cyrus continued.
Cyrus also tweeted a picture of O'Connor ripping up a photograph of the pope, an infamous on-stage stunt by the singer, before asking her to "meet up and talk".
'Staggered'
Responding to Cyrus in a third open letter, O'Connor said she would take legal action against her if she did not remove the tweets.
"You have posted today tweets of mine which are two years old, which were posted by me when I was unwell and seeking help so as to make them look like they are recent.
"In doing so you mock myself and Amanda Bynes for having suffered with mental health issues and for having sought help," said O'Connor.
She added: "It is most unbecoming of you to respond in such a fashion to someone who expressed care for you," O'Connor added.