James McAvoy: 'I love to toy with the audience'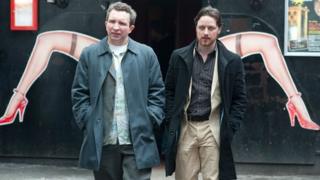 James McAvoy's latest role as a drug-fuelled corrupt Scottish police officer in Filth will not be for everyone - but the actor tells the BBC that's exactly why he signed up.
"It's full on and definitely not for the fainthearted, and there's not a lot of that in the film industry," he explains.
"The character represented an opportunity to take an audience and really toy with them."
Filth sees McAvoy as detective sergeant Bruce Robertson, a man whose average day involves casual drug-taking, obscene phone calls, blackmailing young women into sex or sleeping with his friends' wives.
"You're making somebody laugh, and they know they shouldn't be. And then you're kind of wagging your finger going, 'Shame on you for laughing!'" he continues.
"Then, when they're feeling bad about themselves, you try and make the audience feel some sympathy. And they're like, 'Oh, there's depth to him! Of course, of course!'
"And then you just go, 'No, there's not any depth to me! And you should feel bad about yourself for liking me again'.
"That just seemed really good fun. To be able to toy with whether they were enjoying it or were repulsed by it or not," he says.
Based on the 1998 novel by Trainspotting author Irvine Welsh, some cinema-goers will find plenty to be repulsed by in McAvoy's immoral copper, whose antics become more and more outrageous as he loses touch with reality.
Jamie Bell and Imogen Poots play colleagues competing for a promotion, while Jim Broadbent is his psychiatrist and Eddie Marsan a tormented friend.
Originally branded "un-filmable", it was relative newcomer Jon S Baird's screenplay that finally convinced Welsh that Filth could be brought to the big screen. But neither was convinced McAvoy was suitable for the role.
"He looked very young this particular day," remembers director Baird, sitting in the very seat at London's Soho Hotel where McAvoy first changed his and Welsh's minds.
"But 20 minutes after talking to him, he had morphed into this middle-aged, grizzled, alcoholic divorcee. It was pretty mad.
"He started talking about his experience with mental illness, and that's the thing that bonded us. He had experience of that with somebody he grew up with.
"As soon as I knew he understood that, it was game over. It was like, 'He is the guy'. We offered him the part the same day."
For The Last King of Scotland and Atonement star, it was "a cathartic experience" to portray Bruce as he slowly unravelled.
But the star, who recently took a beating in Danny Boyle's psychological thriller Trance, found himself being roughed up again for Filth - except this time he was in drag.
"I hated being in that outfit," grimaces McAvoy.
"There's something about being covered in blood and cold and you're having to act all mashed up - it makes me feel abused and not nice."
Then he laughs: "And yeah, you look at yourself with a wig on and a beard and blood all over your face and just go, 'How am I ever going to get my wife to fancy me again?'"
The pain was worth it - if you believe the cinema-going public in Scotland, where the film was released a week ahead of the rest of the UK and took £250,000 at just 38 screens.
"Trying to get this thing made over the years, I'm so relieved now that it didn't get made earlier, because it would never have been as good," confesses Welsh, who calls McAvoy's performance "off the scale".
"I'm still astonished by it, to be honest. Thinking about all the great iconic solo performances that I've seen in my lifetime, I just can't think of anyone that betters it.
"He's got to convey loss and pathos, aggression and violence, hatred and manipulation. It's like watching a great Shakespearean."
As one of the film's many producers (who also include Trudie Styler), McAvoy got to see that fearless performance of his up close in the edit suite - and even sent some scenes to the cutting-room floor.
"I'd be saying to Jon, 'Get rid of that bit. I know you love it, I know you think that's great but it's slowing everything down,'" he says.
"And you're like, 'I've just told him to cut a bit of my performance!' I never thought I'd see the day that happens, you know?"
Filth also provided McAvoy with another first - acting alongside his sister, Joy.
"It was amazing, she's an amazing actress. She's got her own approach and her own on-screen and on-stage charisma, which I'm in thrall of at times," he says.
"Once the camera started rolling she was there, she was in it; and I was there and I was in it; and we just kind of went for it. That's the McAvoy way, maybe!"
Next May, audiences will see McAvoy return to the land of big budget blockbusters in his second X-Men film, Days of Future Past, which he finished shooting around a month ago.
He plays a younger Charles Xavier alongside the likes of Hugh Jackman and Michael Fassbender, and has a scene with the "original" Charles, Patrick Stewart.
"It was good, it was really good," says McAvoy. "We got to almost physically, but still metaphorically a little bit, pass the baton."
The star has already moved on to his next film - a new take on Mary Shelley's classic novel Frankenstein, in which he plays Victor Von Frankenstein to Daniel Radcliffe's Igor.
"Me and him met last week," reveals McAvoy. "We had our first rehearsal, it was awesome."
"The monster isn't so much trying to come to terms with his existence as he is in the Kenneth Branagh one," he explains.
"It's an adventure, and the backbone of the adventure is the relationship between me and Daniel. It's more about those two - brothers in science and brothers in adventure."
He pauses, and laughs: "It sounds like I'm pitching 'Weird Science: The Movie' here!"