Prisoners captures UK box office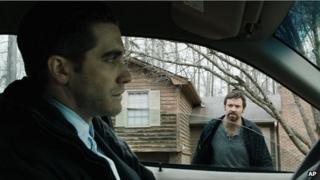 Hugh Jackman and Jake Gyllenhaal's new film Prisoners has repeated its US success by topping the UK box office in its opening weekend.
The kidnap drama made £1.37m, overtaking the Formula One film Rush, which took second place with £987,549.
Woody Allen's Blue Jasmine came third despite only opening across 188 screens, compared to Prisoners' 400 and Rush's 512 screens.
Filth, starring James McAvoy, enjoyed a strong start in Scotland.
Based on Irvine Welsh's book of the same name, the film has been praised for McAvoy's powerful performance as a hard-drinking, morally repugnant Edinburgh policeman.
It took £247,860 across just 38 locations in Scotland, coming 12th overall, but ending up as the biggest movie of the week in terms of attendance.
The per cinema average of £6,523 was nearly double the figure achieved by Prisoners - but the film may struggle to replicate that performance in the rest of the UK, where it is released on Friday.
Fourth place in this week's chart went to Runner Runner, starring Justin Timberlake, Ben Affleck and Gemma Arterton, while Horror sequel Insidious 2 rounded out the top 5.
Oscar rumours
Prisoners stars Jackman as a father who takes matters into his own hands when his daughter and her friend go missing, while Gyllenhaal plays the small-town police detective working the case.
Cate Blanchett has already been tipped for Oscar success after critics praised her performance in Blue Jasmine.
The film, Allen's 46th as a writer-director, recalls Tennessee Williams' classic play A Streetcar Named Desire, with Blanchett playing a depressed New York socialite whose wealthy husband (Alec Baldwin) ends up in jail.
Richard Curtis's time travelling romance About Time was in sixth place, with action movie White House Down in seventh.
Animations Justin and the Knights of Valour and Monsters University both stayed in the top ten; while controversial biopic Diana, starring Naomi Watts, slipped to ninth place in its second week of release.